Noriaki Akitaya (Bakuman., Active Reid) serves as director at CONNECT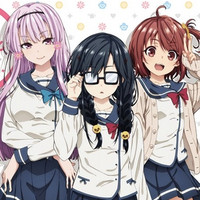 It was also announced at at the "Aki no Dengekisai" event held in Akihabara on Sunday that a TV anime adaptation based on Rakuda's love comedy light novel series Ore wo Sukinanowa Omaedake kayo (Are You Really the Only One Who Likes Me) is now in the works. Its official website and Twitter are already opened, announcing its main voice cast and staff.
TV anime teaser visual
「#俺を好きなのはお前だけかよ」
アニメスタッフによるティザービジュアルを公開‼️
放送まで楽しみにお待ちください

✏️スタッフ
原作:駱駝(電撃文庫刊)
原作イラスト:ブリキ
監督:秋田谷典昭
キャラクターデザイン:滝本祥子
アニメーション制作:CONNECThttps://t.co/6m2z08xxVM#俺好き pic.twitter.com/0krZRys4Vp

— アニメ「俺を好きなのはお前だけかよ」公式 (@oresuki_anime) 2018年10月7日
The novel is based on the author's You can't use a broken watering can that won the Gold Award
in the 22nd Dengeki Novel Taisho in 2015 when he was 29 years old. It has been published from
KADOKAWA's light novel imprint Dengeki Bunko since February 2016, and currently nine volumes
are available in Japan.
The story centers on high school boy named Amatsuyu Kisaragi (Jyouro). While pretending as
an insensitive person, he has been looking for an opportunity to get a confession of love from his
senior student Sakura Akino (Cosmos) and childhood friend Aoi Hinata (Himawari). But instead,
he is confessed by Sumireko Sanshokuin (Pansy) whom he has hated.
The TV anime is directed by Noriaki Akitaya (Bakuman., Active Reid), alongside character designer
Shoko Takimoto (Armed Girl's Machiavellism). The novel author Rakuda himself serves as series
composition writer and writes the screenplay for all episodes. CONNECT (Death March to the
Parallel World Rhapsody) works on anime production.
Main voice cast:
Amatsuyu Kisaragi (Jyouro): Daiki Yamashita (Sakamichi Onoda in Yowamushi Pedal)
Sumireko Sanshokuin (Pansy): Haruka Tomatsu (Asuna in Sword Art Online)
Aoi Hinata (Himawari): Haruka Shiraishi (Kirie Motoba in Himouto! Umaru-chan)
Sakura Akino (Cosmos): Sachika Misawa (Kuroyukihime in Accel World)
「#俺を好きなのはお前だけかよ」
TVアニメ化告知PVを公開中

キャスト
ジョーロ(如月雨露):山下大輝
パンジー(三色院菫子):戸松遥
ひまわり(日向 葵):白石晴香
コスモス(秋野 桜):三澤紗千香https://t.co/6m2z08xxVM#俺好き pic.twitter.com/ZDF1WfDqjC

— アニメ「俺を好きなのはお前だけかよ」公式 (@oresuki_anime) 2018年10月7日
Novel 1st and 9th volume covers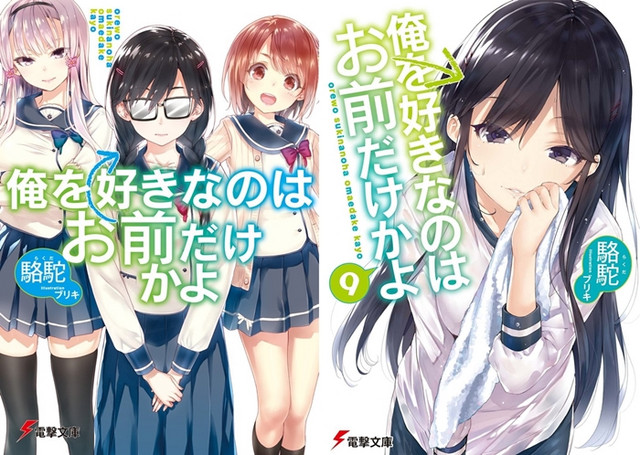 ---
Source: TV anime "Ore wo Sukinanowa Omaedake kayo" official website / Twitter
©2018 Rakuda/KADOKAWA/"OreSuki" Production Committee
© KADOKAWA CORPORATION 2018