Nozomi Entertainment's Previous Kickstarter Campaign Secured Dubs for All Three Seasons of Aria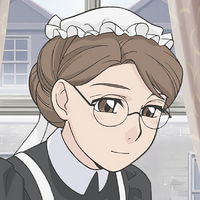 As we reported last week, Nozomi Entertainment hit it's goal for its dubbed home video release of Emma: A Victorian Romance, halfway through its month-long Kickstarter campaign. With nearly a thousand backers and 9 days left in the campaign (as of writing), it's trending towards $178,733 according to Kickstarter analytics site Kicktraq. That's just over $1,000 away from the Stretch Goal of $180,000, which will unlock a dub of the second season.
There are three more mystery stretch goals in between the current support level and the second season's dub - an English cast commentary for the first season and the addition of the second season to the softcover book were the first mystery stretch-goals. Based on the current trajectory, it will fall just short of the goal for the second season, but the amount is close enough that a few dozen dedicated fans could push it over the edge.

Nozomi Entertainment describes Emma: A Victorian Romance as follows:
In 19th-century London, class lines are sharply drawn, and the social standing to which people are born dictates the path their lives will follow. Emma, an honest and hardworking young maid, never felt her place in life to be a burden. But then she met William, a member of the gentry and the eldest son of a wealthy family. His warm smile and earnest affection threaten to capture her heart... but can love truly conquer all?
This fantastic Victorian tale of an upstairs, downstairs romance is the anime adaptation of Kaoru Mori's amazing manga of the same name which was honored with an Excellence Prize at the 2005 Japan Media Arts Festival. Kaoru Mori went to extensive lengths to research her period drama and her authentic details are brought through in this amazing adaptation.
Both seasons of the show are available currently on Crunchyroll and VRV in their subtitled versions. You can watch a trailer here: