Production of the "High School Fleet" feature film has not yet been officially cancelled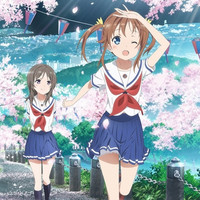 Tokyo-based anime production company Production IMS filed for bankruptcy with the Tokyo District Court on September 21, then the court decided to commence bankruptcy proceedings on October 3, Tokyo Shoko Research reported today on October 11. The total amount of the company's debt was reportedly 250 million yen (about 223,000 US dollars).
Production IMS was established by the former AIC producer Yoshiyuki Matsuzaki (Haganai, Date A Live, Oreimo) in February 2013. As reported back in June, while the demand for production cost and payment to subcontractors increased, the sales remained stagnant and cash flow deteriorated. As part of reconstruction effort, it closed its Hikarigaoka Studio in Tokyo in December 2017. Unfortunately, such efforts didn't work out well. The management finally reached the limit and the post-processing was entirely left to an attorney as of June 7, 2018.
While the official website for the studio was already closed, that for the High School Fleet anime series,
including the announcement for the anime feature film project revealed in April 2018, is still alive. So far
no official announcements for the future of the film have been made. On the other hand, a smartphone
game High School Fleet: Kantai Battle de Dai Pinch! is still accepting pre-registrations for its launch in 2018.
Production IMS's main TV anime works:
Date A Live II (2014)
Gonna be the Twin-Tail!! (2014)
The Testament of Sister New Devil (2015)
Castle Town Dandelion (2015)
The Testament of Sister New Devil Burst (2015)
Active Raid (2016)
Hundred (2016)
High School Fleet (2016)
Hybrid × Heart Magias Academy Ataraxia (2016)
Takunomi. (2018)
Announcement for the "High School Fleet" film
---
Source: Tokyo Shoko Reserach
©AIS /Maritime Safety Support Department