Un dîner et des animés !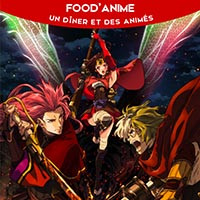 Crunchyroll vous propose de découvrir sur grand écran les deux films récapitulatifs (inédits en France) de la fameuse série Kabaneri of the Iron Fortress lors d'une soirée spéciale. Food'Anime est un tout nouveau rendez-vous mensuel organisé au cinéma Le Club de l'étoile à Paris. Le principe ? Voir ou revoir une pépite de l'animation japonaise tout en dégustant un délicieux bento (un assortiment de mets japonais présentés dans une boîte). Rendez-vous vendredi 16 novembre à partir de 19 h 30 pour une plongée dans un univers steampunk avec des zombies à travers cette série imaginée en 2016 par WIT Studio (L'Attaque des Titans).
L'HISTOIRE
Pendant la révolution industrielle, l'humanité fut menacée par l'émergence soudaine de monstres morts-vivants. Appelées « kabane », ces créatures se sont multipliées et ne peuvent être tuées qu'en leur perçant le cœur à travers une plaque de fer. Ceux qu'elles mordent deviennent l'un d'entre elles. Les rescapés ont construit des forteresses à l'intérieur desquelles ils se barricadent. Pour se déplacer de l'une à l'autre, ils utilisent des trains à vapeur blindés lourdement armés…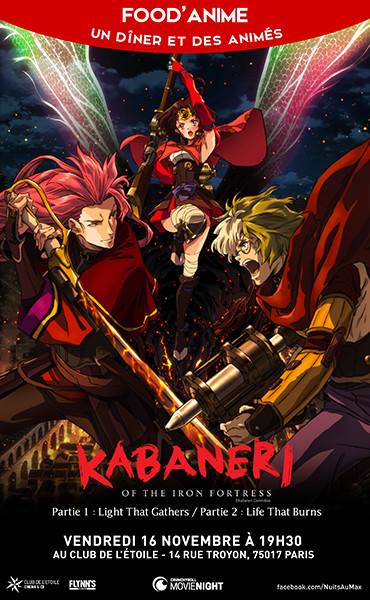 LA PROJECTION
Film 1 : Light That Gathers
Sortie : 31/12/2016 | Durée : 1 h 47 | Genres : action, fantastique
Film 2 : Life That Burns
Sortie : 07/01/2017 | Durée : 1 h 43 | Genres : action, fantastique
Réalisés par Tetsurô Araki (Death Note, L'Attaque des Titans), avec un character design signé Haruhiko Mikimoto (Macross, Gunbuster), ces films proposent un montage inédit des 12 épisodes de la série TV avec des scènes inédites et un son 5.1.
RÉSERVATION
Horaire : ouverture des portes à 19 h, projection à partir de 19 h 30
Adresse : Club de l'étoile, 14 rue Troyon 17017 Paris (Métro : Charles de Gaulle – Étoile)
Prix : Place + Bento + Boisson : 25 € | Place seule : 15 €
Renseignements et réservation : https://www.weezevent.com/food-anime-kabaneri
©Kabaneri Committee