Sega's collaboration cafe offers special collaboration menu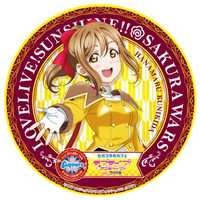 Sega Entertainment announced today that a new collaboration campaign between Hanamaru Kunikida from the Love Live! Sunshine!! franchise and its popular game franchise Sakura Taisen/Sakura Wars will be held at Sega and AG Square's 187 amusement facilities across Japan from October 27 to December 9, 2018. Sakura Wars was chosen from Sega's popular game franchises in the past by the online voting held in March of this year.
During the campaign period, all visitors will get one of the two postcards featuring the collaboration visual. And players of the facilities' UFO catcher machines will get clear files (11 types) and rubber straps (9 types) depending on the amount of the money they spend: 500 yen for one clear file, 1,500 yen for one rubber strap. And the UFO catchers will also offer time-limited original prizes as listed below.
Main visual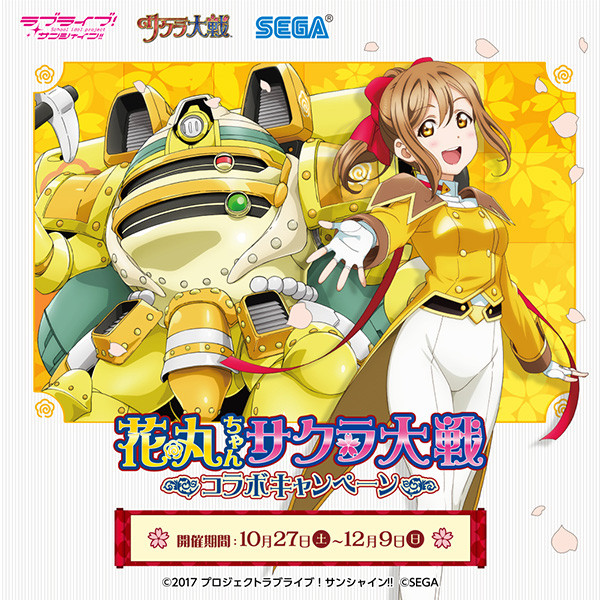 Newly drawn illustrations for the collaboration campaign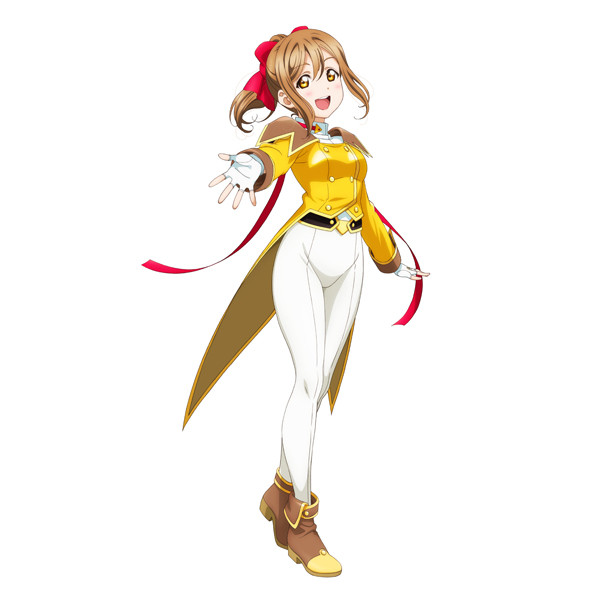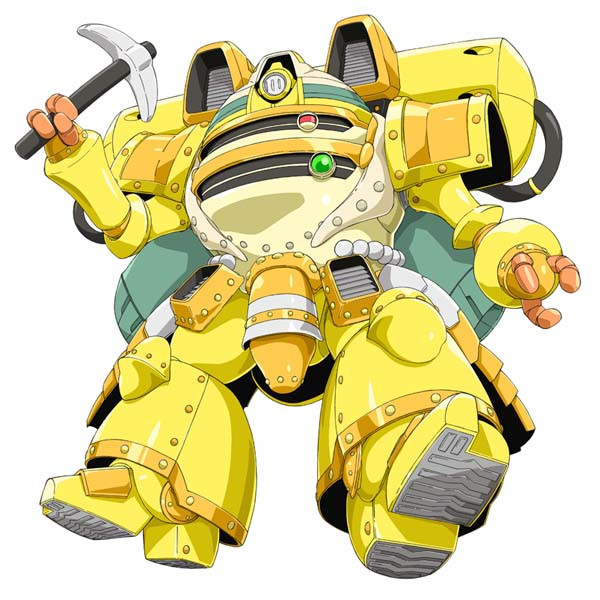 Postcards:
(October 27 - November 16)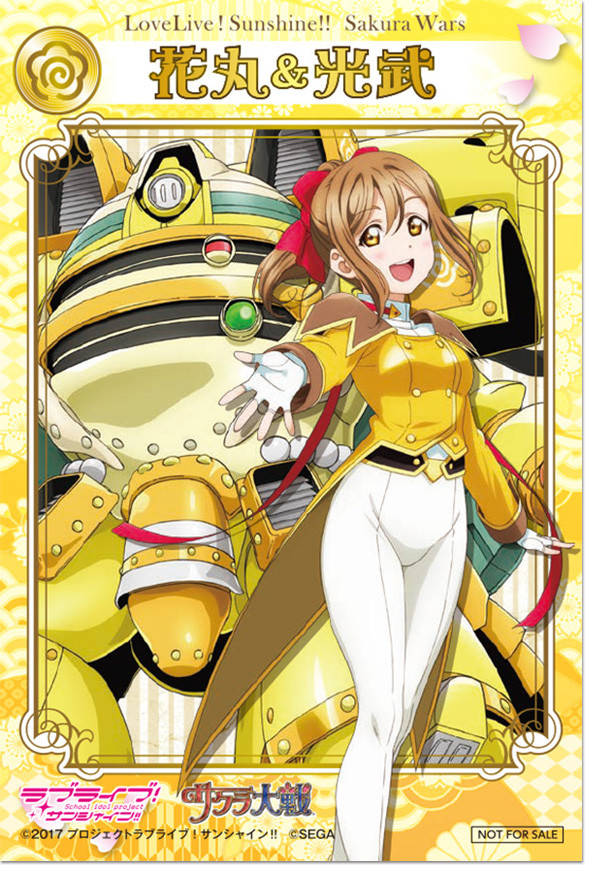 (November 17 - December 9)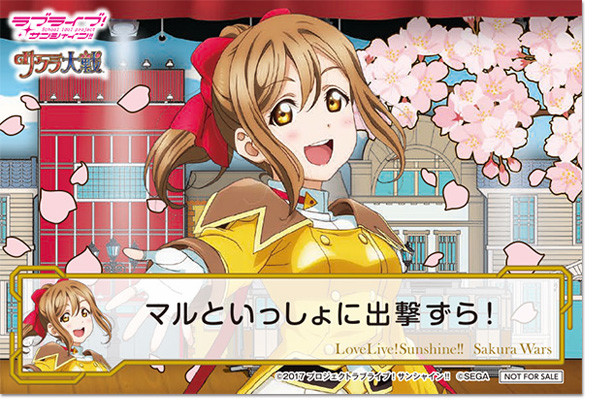 -Clear file (11 types)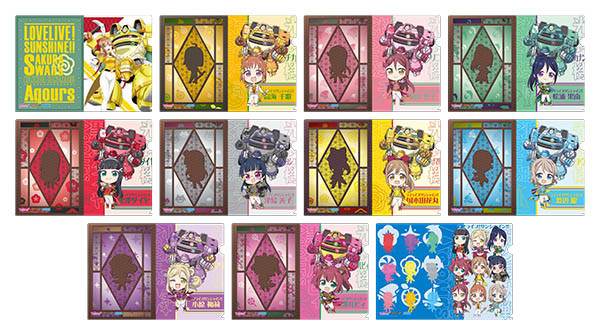 -Rubber strap (9 types)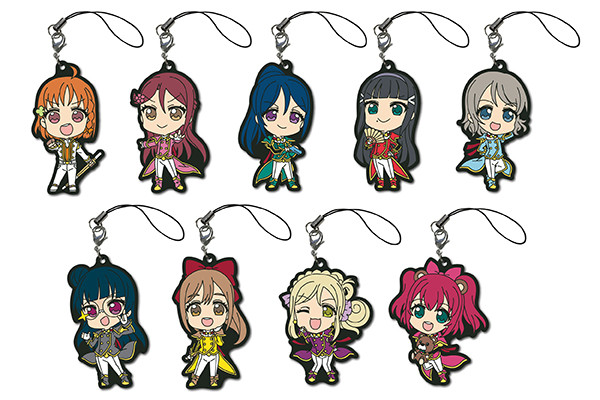 UFO catcher prizes:
(October 27 - November 16)
-Mini cushion strap (9 types)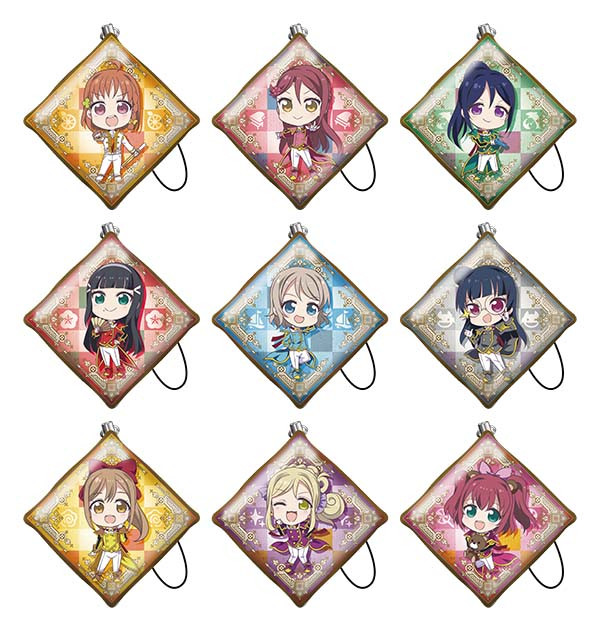 -Tumbler (10 types)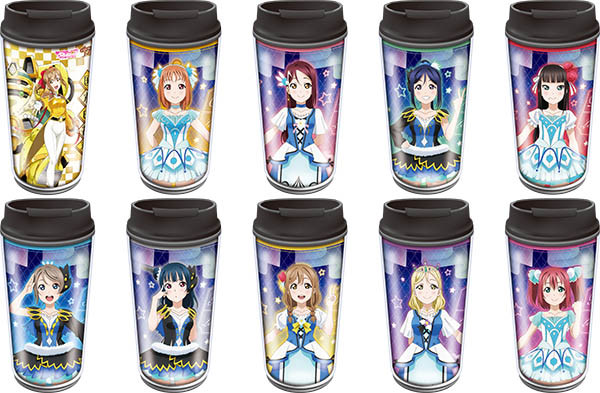 -Cushion (1 type)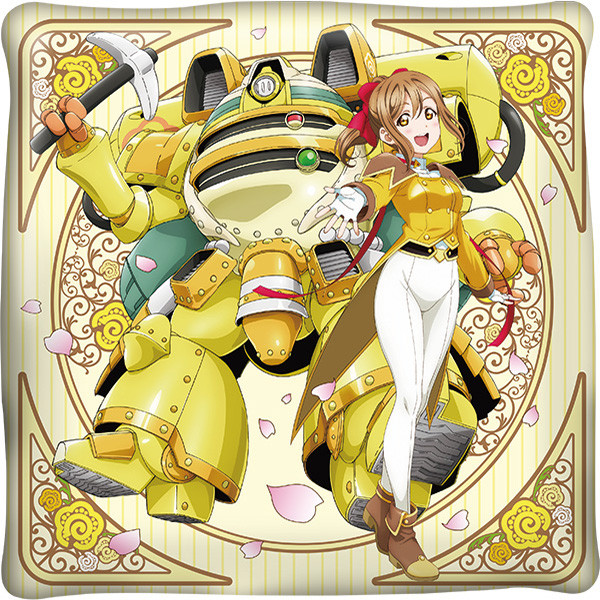 (November 17 - December 9)
-Muffler towel (1 type)

-Die-cut acryl strap (9 types)

---
Also between October 27 and December 16, a collaboration cafe will open on the seventh floor of
Sega Akihabara 3rd store, offering various collaboration food and drinks inspired by the characters.
Main visual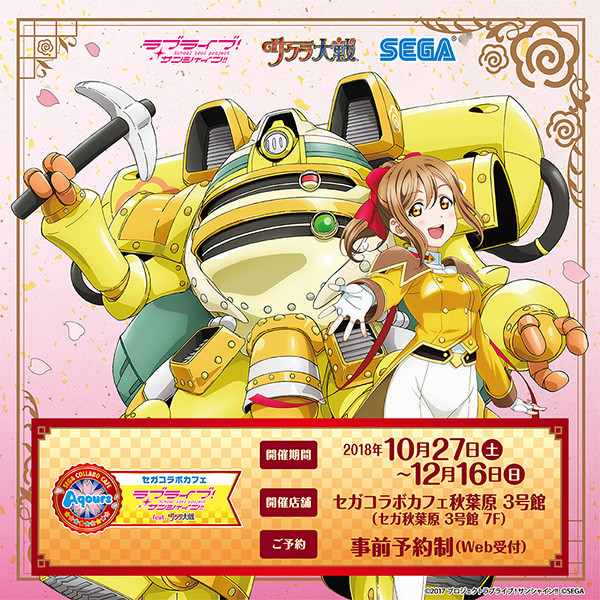 Collaboration menu:
"Hanamaru-chan no Sakura Taisen Omelet" (1,200 yen)/"Koubu Hanamaru sandwich" (1,200 yen)

"Love Live! Sunshine !! Parfait: 1st grade/2nd grade/3rd grade" (1,000 yen)

Character drinks (600 yen)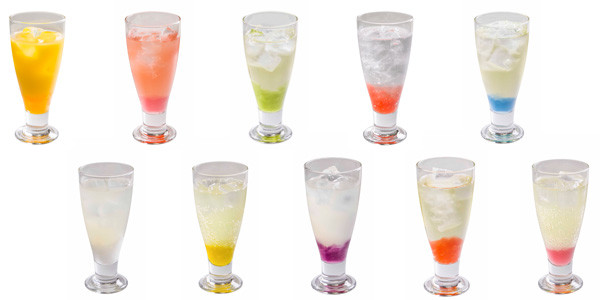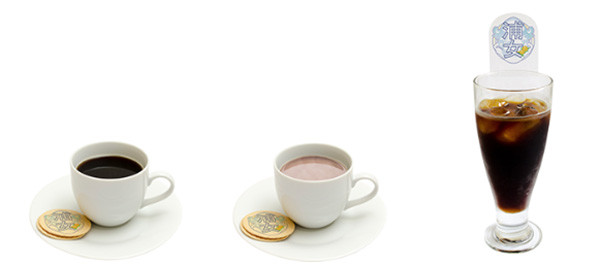 You can get one drink coaster for one drink order.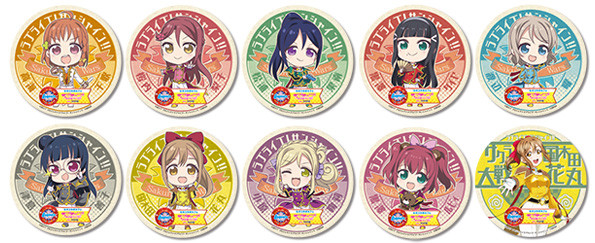 Food coaster for one food order.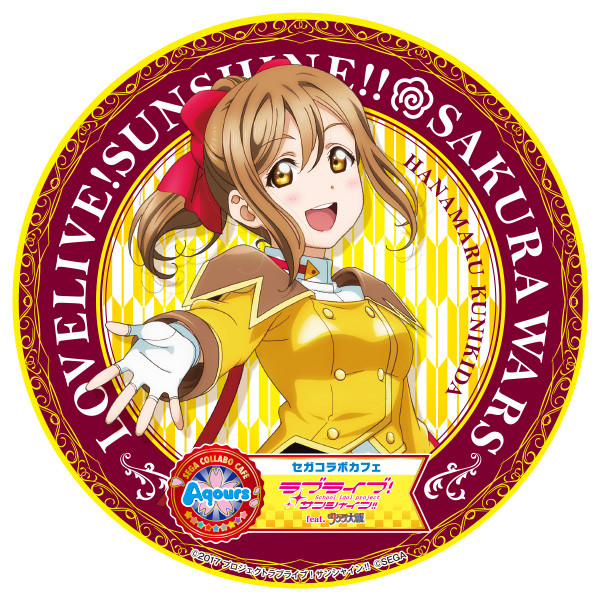 Parfait coaster for one dessert order.

You can get one of four clear photo cards for over 2,000 yen purchase at the mechandise section.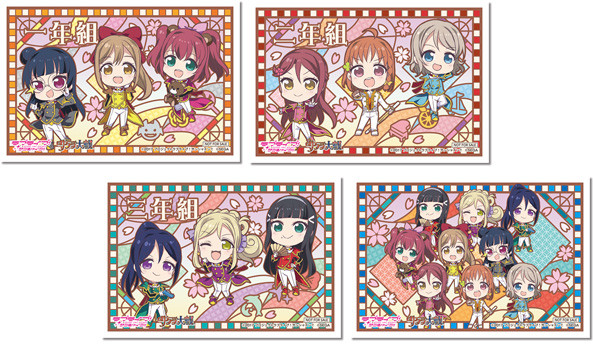 Sega collaboration cafe original goods
(October 27 - )
-Microfiber towel (11 types) 600 yen

-Acryl badge (10 types) 540 yen

-Coaster holder vol. 1 (Hanamaru Kunikida) - 1,000 yen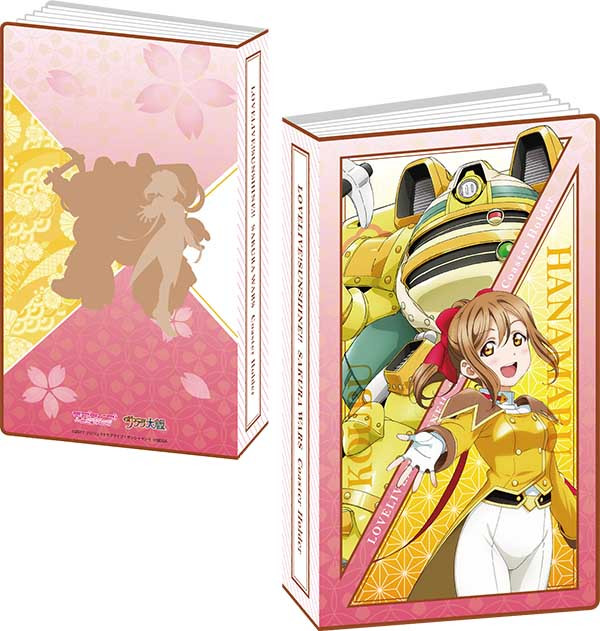 -Photo card holder (2 types) 1,400 yen

-Kinchaku purse (3 types) 700 yen

(November 10 - )
- Coaster holder vol. 2 (Sakura Wars collaboration) 1,000 yen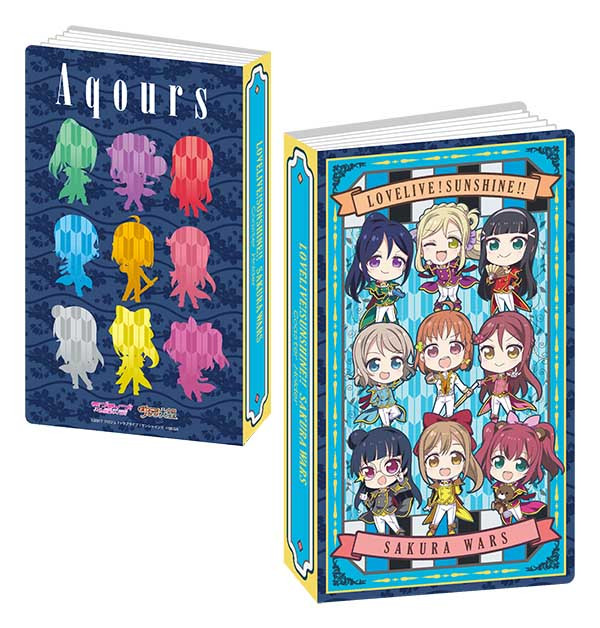 Big coaster holder (3 types) - 1,600 yen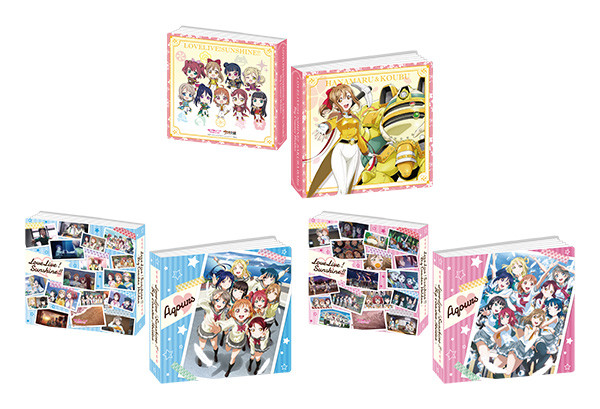 Double coaster holder (9 types) 1,600 yen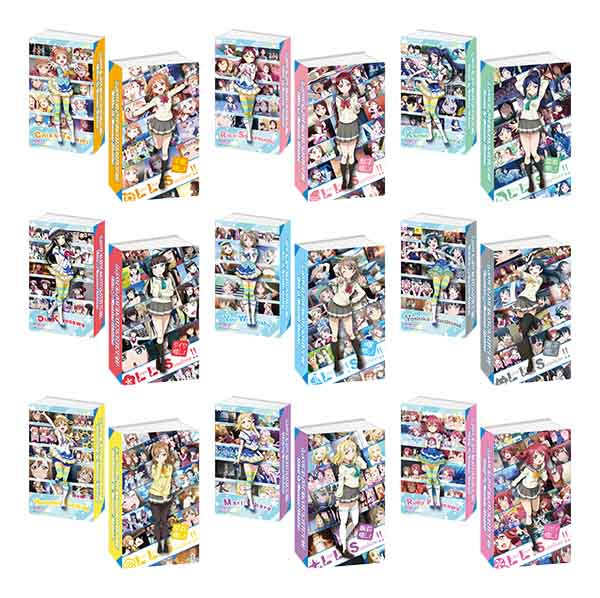 ---
Source: Sega Entertainment press release
©2017 Project Love Live! Sunshine!! ©SEGA