The OP song "The Beautiful Brave" is sung the four main VAs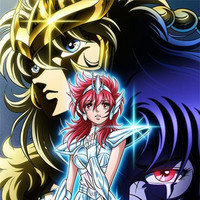 The official website for the upcoming anime adaptation of Chimaki Kuori's Saint Seiya: Saintia Shō manga announced today that it is set to premiere on Amazon Prime Video Channel (Sky PerfecTV! Anime Set for Prime Video) and ANIMAX on PlayStation (PS4) at 19:00 on December 10, 2018 (JST), then will be also aired on the ANIMAX TV channel (BS/CS, CATV,IPTV) on December 24.
In addition, the anime's OP/ED song CD single and soundtrack album will be released simultaneously on December 26, 2018. The OP song "The Beautiful Brave" is performed the four main voice actresses as their characters: Shoko (Aina Suzuki), Kyoko (M.A.O), Saori (Inori Minase), and Mii (Megumi Nakajima), while the ED song "Hohoemi no Resonance" is performed by Shoko and Kyoko. The soundtrack music is composed by Toshihiko Sahashi (The Big O, Heiesi Kamen Rider series).
The OP song's composer/arranger Yasuharu Takanashi (Naruto, Fairy Tail, PreCure series) says on
his official Twitter, "Of course it is metal. Following Sailor Moon's 25th and Kitaro's 50th, I am so
happy to be involved in the memorial work for Saint Seiya's 30th anniversary. Thank you very much."
情報解禁‼️
聖闘士星矢、セインティア翔の主題歌を担当させて頂きます!もちろんメタルですよ(//∇//)
セーラームーン25周年、鬼太郎50周年に続き、聖闘士星矢30周年というメモリアルな作品に関わらせて頂けて本当に幸せです!ありがとうございます #セインティア翔 #聖闘士星矢 pic.twitter.com/U8lkEMcBfb

— 高梨康治 YasuharuTakanashi (@nassy_takanashi) 2018年10月18日
Main voice cast:
Shoko/Equuleus Sho: Aina Suzuki (Mari Ohara in Love Live! Sunshine!!)
Kyoko/Equuleus Kyoko: M.A.O (Hinako Sakuragi in Hinako Note)
Saori Kido: Inori Minase (Rem in Re:Zero − Starting Life in Another World)
Alicia Mii Benethol/Dolphin Mii: Megumi Nakajima (Ranka Lee in Macross Frontier)
Scorpio Miro: Toshihiko Seki (Duo Maxwell in Mobile Suit Gundam Wing)
Leo Aiolia: Hideyuki Tanaka (Fujitaka Kinomoto in Cardcaptor Sakura: Clear Card)
Gemini Saga: Ryutaro Okiayu (Kunimitsu Tezuka in The Prince of Tennis)
---
As a female character-oriented spin-off to Masami Kurumada's classic Saint Seiya manga series, Saint Seiya:
Saintia Shō has been serialized in Akita Shoten's Champion Red since its October 2013 issue and has so far
released 11 tankobon volumes.
Its English edition has been published by Seven Seas Entertainment. The publisher introduces the story
as below:
In the wake of a space-wide civil war instigated by Saga–the Gemini Gold Saint–a new team of Saints
comes together with the goal of protecting their goddess Athena. This first all-woman team of armored
warriors, powered by the Zodiac, will use their cunning, strength, and compassion to defend their worlds
and oppose their very destinies. Mangaka Chimaki Kuori is also known for working on manga for Gundam
Seed and the Persona series.
Manga tankobon 1st and 11th volume covers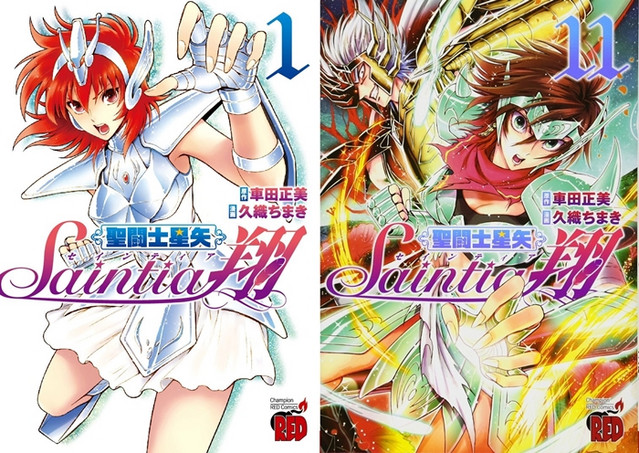 Source: TV anime "Saint Seiya: Saintia Shō" official website, Yasuharu Takanashi official Twitter
©Masami Kurumada, Chimaki Kuori/Akita Shoten, Toei Animation