The latest PreCure crossover film featuring 55 PreCure girls opens in Japan today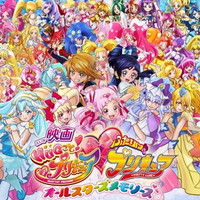 Today on its theatrical release day in Japan, the official website for the latest PreCure crossover film Eiga Hugtto! PreCure♡Futari wa PreCure All Stars Memories announced that it received the Guinness World Records title for "Most magical warriors in an anime film."
The film features a total of 55 PreCure girls from its 15 TV series as listed below and all of them have speaking lines. Its official Guinness World Records certificate will be displayed on the ninth floor of the Shinjuku Wald9 theater in Tokyo until November 7.
The 55 PreCure girls who appear in Eiga Hugtto! PreCure♡Futari wa PreCure All Stars Memories:
From "Futari wa PreCure" (2004-2005), "Futari wa PreCure Max Heart" (2005-2006)
1. Cure Black (Yoko Honna)
2. Cure White (Yukana)
From "Futari wa PreCure Max Heart" (2005-2006)
3. Shiny Luminous (Rie Tanaka)
From "Furtari wa PreCure Splash Star" (2006-2007)
4. Cure Bloom/Cure Bright (Orie Kimoto)
5. Cure Egret/Cure Windy (Atsuko Enomoto)
From "Yes! PreCure 5" (2007-2008), "Yes! PreCure 5 GoGo!" (2008-2009)
6. Cure Dream (Yuko Sanpei)
7. Cure Rouge (Junko Takeuchi)
8. Cure Lemonade (Mariya Ise)
9. Cure Mint (Ai Nagano)
10. Cure Aqua (Ai Maeda)
From "Yes! PreCure 5 GoGo!" (2008-2009)
11. Milky Rose (Eri Sendai)
From "Fresh PreCure!" (2009-2010)
12. Cure Peach (Kanae Oki)
13. Cure Berry (Eri Kitamura)
14. Cure Pine (Akiko Nakagawa)
15. Cure Passion (Yuka Komatsu)
From "HeartCatch PreCure!" (2010-2011)
16. Cure Blossom (Nana Mizuki)
17. Cure Marine (Fumie Mizusawa)
18. Cure Sunshine (Houko Kuwashima)
19. Cure Moonlight (Aya Hisakawa)
From "Suite Pretty Cure♪" (2012-2012)
20. Cure Melody (Ami Koshimizu)
21. Cure Rhythm (Fumiko Orikasa)
22. Cure Beat (Megumi Toyoguchi)
23. Cure Muse (Rumi Ohkubo)
From "Smile PreCure!" (2012-2013)
24. Cure Happy (Misato Fukuen)
25. Cure Sunny (Asami Tano)
26. Cure Peace (Hisako Kanemoto)
27. Cure March (Marina Inoue)
28. Cure Beauty (Chinami Nishimura)
From "Dokidoki! PreCure" (2013-2014)
29. Cure Heart (Hitomi Nabatame)
30. Cure Diamond (Minako Kotobuki)
31. Cure Rosetta (Mai Fuchigami)
32. Cure Sword (Kanako Miyamoto)
33. Cure Ace (Rie Kugimiya)
From "HappinessCharge PreCure!" (2014-2015)
34. Cure Lovely (Megumi Nakajima)
35. Cure Princess (Megumi Han)
36. Cure Honey (Rina Kitagawa)
37. Cure Fortune (Haruka Tomatsu)
From "Go! Princess PreCure" (2105-2016)
38. Cure Flora (Yu Shimamura)
39. Cure Mermaid (Masumi Asano)
40. Cure Twinkle (Hibiku Yamamura)
41. Cure Scarlet (Miyuki Sawashiro)
From "Maho Girls PreCure!" (2016-2017)
42. Cure Miracle (Rie Takahashi)
43. Cure Magical (Yui Horie)
44. Cure Felice (Saori Hayami)
From "Kirakira PreCure a la Mode" (2017-2018)
45. Cure Whip (Karen Miyama)
46. Cure Custard (Haruka Fukuhara)
47. Cure Gelato (Tomo Muranaka)
48. Cure Macaron (Saki Fujita)
49. Cure Chocolat (Nanako Mori)
50. Cure Parfait (Inori Minase)
From "Hugtto! PreCure" (2018-)
51. Cure Yell (Rie Hikisaka)
52. Cure Ange (Rina Hon'izumi)
53. Cure Etoile (Yui Ogura)
54. Cure Macherie (Nao Tamura)
55. Cure Amour (Yukari Tamura)
---
The film's ED movie (edited version) featuring the 55 PreCure girls
Full trailer
Poster visuals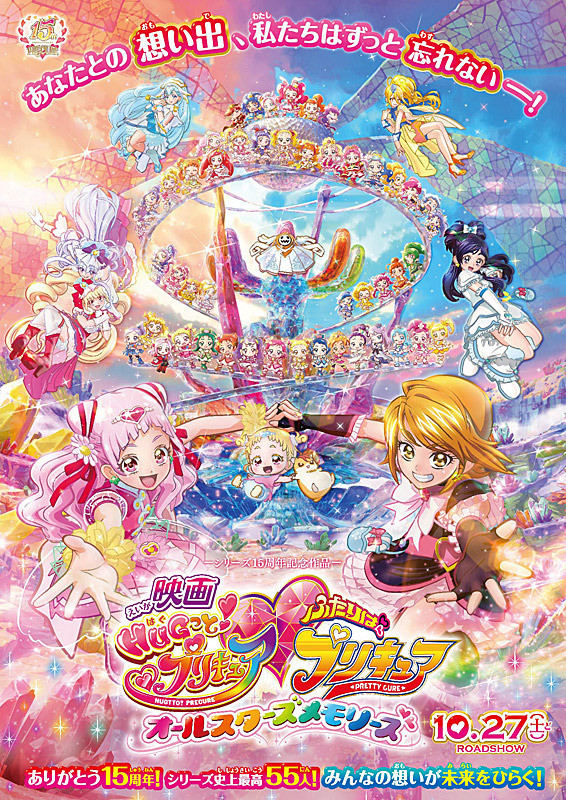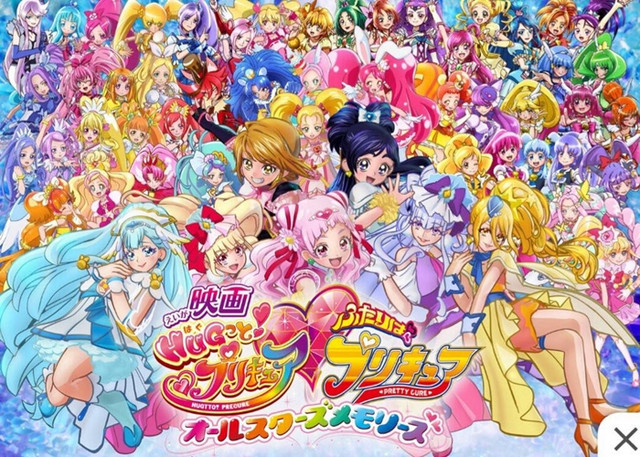 ---
Source: "Eiga Hugtto! PreCure♡Futari wa PreCure All Stars Memories" official website
(C)2018 Movie Hugtto! PreCure Production Committee