"Space Battleship Yamato 2202" 6th chapter ranks 10th in its opening weekend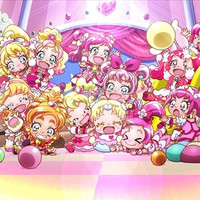 Following its sensational No.1 debut with 353 million yen last week, the latest PreCure crossover film Eiga Hugtto! PreCure♡Futari wa PreCure All Stars Memories has continued its successful box office run in Japan adding another 300 million yen in its second week.
While ranking third in its second weekend, the 73-minute film featuring the record-breaking 55 PreCure girls has earned 650 million yen from its first two-week run. Checking the PreCure franchise's 15-year history, its most successful film was PreCure All Stars DX2: Light of Hope☆Protect the Rainbow Jewel! that was released in March 2010 and earned 602 million yen by its second weekend. So if All Stars Memories can keep up its strong pace for a few more weeks, it would be highly possible to crack the franchise's box office record of 1.15 billion yen marked by All Stars DX2.
Related: PreCure All Stars Memories Receives Guinness World Records Title for "Most Magical Warriors in An Anime Film"
---
Weekend box office in Japan (November 3-4, 2018)
(ticket sales basis)
1 (new). "Venom"
2 (new). "Sumaho wo Otoshita dakenanoni"
3 (1). "Eiga Hugtto! PreCure♡Futari wa PreCure All Stars Memories"
4 (3). "The Laws of The Universe Part 1"
5 (2). "Tabineko Report"
6 (new). "Biblia Koshodou no Jiken Techo"
7 (4). "Million Dollar Man"
8 (5). "Nichinichi Kore Koujitsu"
9 (new). "Hashire! T-kou Basket-bu"
10 (new). "Space Battleship Yamato 2202: Warriors of Love: 6th Chapter Kaisei-hen"
"Eiga Hugtto! PreCure♡Futari wa PreCure All Stars Memories" trailer
Battle scene clip
---
Source: Eiga.com
(C)2018 Movie Hugtto! PreCure Production Committee