The tagline reads: "This place has already become a war zone."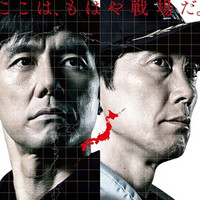 The official website for the forthcoming live-action film based on Kaiji Kawaguchi (Silent Service, Zipang)'s ongoing military manga Kubo Ibuki (Aircraft Carrier Ibuki) today posted a first poster visual featuring its two protagonists, Hidetoshi Nishijima as Ryota Akitsu and Kuranosuke Sasaki as Toshiya Niinami, and a 30-second first teaser trailer saying "The 24 hours Japan has never experienced after the World War II."
Teaser trailer
The story is set in a fictional world that Japan Self Defense Force has its first aircraft carrier "Ibuki" and
tells its battle against a military force of unknown nationality that suddenly attacks Japan (unlike the
manga that clearly mentions and illustrates the enemy country, China, the film's description currently
seems to try to avoid it).
In cooperation with journalist Osamu Eya, Kawaguchi has serialized the manga in Shogakukan's biweekly
magazine Big Comic since its 24th issue of 2014. It has printed more than 3.5 million copies with ten
tankobon volumes, and was also chosen as the winner of the 63rd Shogakukan Manga Award's "Best
General Manga" category in 2017.
Nishijima portrays Ibuki's captain Akitsu, alongside Sasaki as vice commander Niinami. 69-year-old Setsuro
Wakamatsu (White Out, Zakurozaka no Adauchi) is attached to direct on a screenplay by Kazunori Ito (Mobile
Police Patlabor, Gamera) and Yasuo Hasagawa (Last Operations Under the Orion, Isoroku). The film is set to
be released in Japan sometime in 2019.
The first poster visual with a tagline "The place has already become a war zone."
原作・監修 #かわぐちかいじ 企画 #福井晴敏 脚本 #伊藤和典 #長谷川康夫 音楽 #岩代太郎 監督 #若松節朗 出演 #西島秀俊 #佐々木蔵之介 この重厚感と色気たっぷりの布陣で贈ります。映画 #空母いぶき 第一弾ビジュアル公開! pic.twitter.com/M4o5SM38kI

— 映画『空母いぶき』公式 (@ibuki192) 2018年11月7日
Manga tankobon 1st and 10th volume covers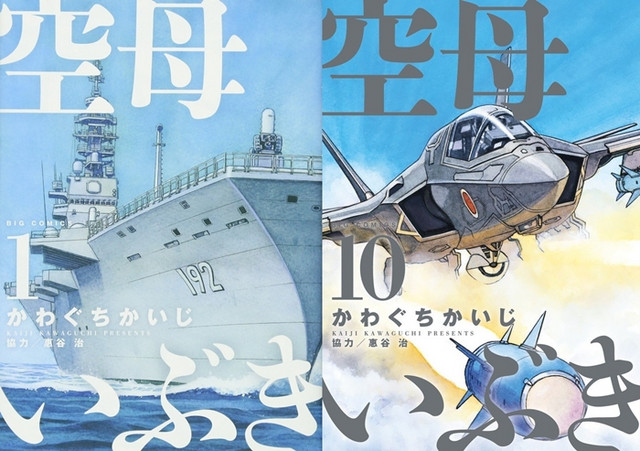 ---
Source: "Kubo IbukI" live-acton film official website / Twitter
© Kaiji Kawaguchi, Osamu Eya, Shogakukan/"Kubo Ibuki" Film Partners