TMS Entertainment-produced girl baseball anime is set to premiere in 2019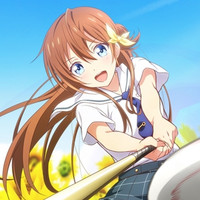 The official website for the upcoming TV anime based on Akatsuki and KADOKAWA's high school baseball-themed smartphone game Hachigatsu no Cinderella Nine (Cinderella Nine in August), Hachinai for short, announced today that the game's five main voice actresses, including Nozomi Nishida as the main visual girl Tsubasa Arihara, are set to reprise their roles. Their colorless anime visuals are now also revealed on the site.
Announced voice cast:
Tsubasa Arihara: Nozomi Nishida (Makina Nakajima in Macross Delta)
Ryo Shinonome: Reina Kondo (Suzuka Nagami in My Sister, My Writer)
Yuuki Nozaki: Saki Minami (Tsumugi Shiraishi in The [email protected] Million Live!)
Tomoe Kawakita: Honoka Inoue (Ruby Azumi in Between the Sky and Sea)
Akane Ukita: Yumiri Hanamori (Zero in Grimoire of Zero)
2nd announcement PV for the TV anime
The TV anime is set to to premiere in Japan sometime in 2019. Susumu Kudo (Mardock Scramble, Minami
Kamakura High School Girls Cycling Club) serves as director, alongside series composition writer Jin Tanaka
(Go! Princess PreCure, Laid-Back Camp) and anime character designer Takayuki Noguchi (Ro-Kyu-Bu!, Angel's
3Piece!). TMS Entertainment (Detective Conan, Lupin The Third) works on anime production.
/
TVアニメ「八月のシンデレラナイン」
キャスト情報の第一弾を発表しました
\

TVアニメ #ハチナイ のティザーサイトを更新いたしました!
今後も続報にご期待ください!

▼ティザーサイトhttps://t.co/47i9nghdEShttps://t.co/47i9nghdES

— 【公式】八月のシンデレラナイン (@hachinai89) 2018年11月8日
---
Source: TV anime "Hachigatsu no Cinderella Nine" teaser site
©Akatsuki Inc./Anime "Hachigatsu no Cinderella Nine" Production committee