The voice of Ranka Lee (Macross Frontier), Megumi Aino/Cure Lovely (HappinessCharge PreCure!)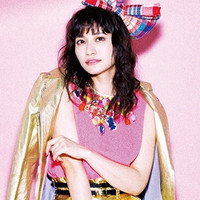 In celebration of her debut 10th anniversary, 29-year-old voice actress/singer Megumi Nakajima will release her first cover album "Lovely Time Travel" dedicated to Japanese idols/singers in the Showa era on January 28, 2019. She has a deep knowledge of Japanese popular songs in the 1970s-1990s, and has been known as a great record collector of the era.
Her first self-produce album "Lovely Time Travel" includes:
"Mayonaka no Door" (originally performed by Miki Matsubara in 1980)
"Toki ni Ai wa" (Iyo Matsumoto in 1984)
"Toumei na Orange" (Narumi Yasuda in 1984)
"Kimono Beat" (Seiko Matsuda in 1987)
"Aoi Station" (Sonoko Kawai in 1986)
"Ame ni Kiss no Hanataba wo" (Miki Imai in 1990)
"Mugon no Falsetto" (Coco in 1992)
2019年1月28日に初のカバーミニアルバム「ラブリー・タイム・トラベル」をリリースすることが決定しました!
みなさん、ぜひチェックしてみてください!(ス)https://t.co/TIjtmFYJx8 pic.twitter.com/N9GgoSwNhk

— 中島 愛 official (@mamegu_staff) 2018年11月9日
---
Megumi Nakajima made her professional voice actress/singer debut as Ranka Lee in Macross Frontier in
2008, and has released 12 singles and four albums as a solo singer herself.
Her latest 12th single song "Bitter Sweet Harmony" MV (August 1, 2018 release)
---
Source: Megumi Nakajima official website
Copyright 2018 e-stone music