The DVD and Blu-ray will be available on December 5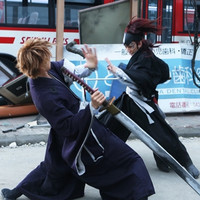 Following the one to introduce production process of the climax battle from the live-action film Bleach, Warner Brothers Japan's official YouTube channel also posted another clip to show the behind-the-scenes of the battle between Ichigo Kurosaki (Souta Fukushi) and Renji Abarai (Taichi Saotome). According to the film's official Twitter, the actors including Fukushi played most of the action scenes in the film by themselves without stund doubles.
The film has been already digitally available in Japan since November 6, and its DVD and Blu-ray are set to be released on December 7, 2018. These behind-the-scenes will be included in their premium editions' 200-minute "Making of CG" bonus footage.
"Ichigo vs. Renji" behind-the-scenes
Cinema Today has also posted the behind-the scenes of the joint battle by Ichigo and Uryu Ishida (Ryo Yoshizawa)
#映画BLEACHのここがすごい
アクションシーン黒崎一護役の #福士蒼汰 さんはじめとする俳優陣は、ほぼノースタントで撮影に挑みました!一護と恋次が戦うシーンに注目です!#映画ブリーチ

『#BLEACH』12.5ブルーレイ&DVDリリース / デジタル先行配信中 https://t.co/24Z35fR7JE pic.twitter.com/wckwVjPiIB

— 映画『BLEACH』公式 (@bleach_moviejp) 2018年11月12日
"Ichigo vs. Grand Fisher" behind-the-scenes
Message from Souta Fukushi for the digital release
デジタル先行配信スタート
本日からデジタル配信がスタートしましたひと足お先に、お楽しみください#映画ブリーチ #福士蒼汰

『#BLEACH』12.5ブルーレイ&DVDリリース / デジタル先行配信中 https://t.co/24Z35g8J8e pic.twitter.com/vecLoSh7Ik

— 映画『BLEACH』公式 (@bleach_moviejp) 2018年11月6日
---
Source: Warner Brothers Japan offiicial YouTube channel
©Tite Kubo/Shueisha
©2018 "Bleach" Film Partners