The 22nd Conan film has become the second top-grossing film of this year in Japan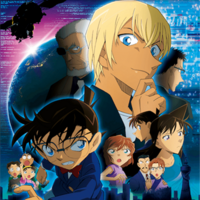 As reported, Detective Conan: Zero the Enforcer was released on 7,000-8,000 screens across China on November 9, and according to Cinema Today, it has earned 1.6 billion yen (about 14 million US dollars) in one week since its release. The 22nd Conan film has been also released in other Asian countries, such as Korea (310 million yen), Taiwan (149 million yen), Thailand, Singapore, and Vietnam.
The film was released in Japan on April 13, 2018, and its worldwide gross including 9.1 billion yen from Japan has reached an impressive 11.2 billion yen (99 million US dollars) by November 15. It has already become the most successful film in the franchise surpassing the previous record of 6.89 billion yen marked by the 21st film The Crimson Love Letter in 2017.
コナン『ゼロの執行人』全世界で110億円超えの大ヒット! #ゼロの執行人 https://t.co/XGYyyoNucT

— シネマトゥデイ (@cinematoday) 2018年11月16日
---
Source: Cinema Today
(C)2018 GOSHO AOYAMA/DETECTIVE CONAN COMMITTEE All Rights Reserved