Yusuke Kobayashi (Subaru Natsuki in Re:Zero) is set to voice the protagonist Senku Ishigami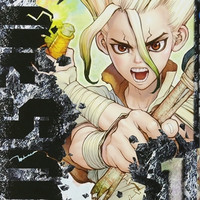 It is officially announced today in Japan that a TV anime adaptation of Riichiro Inagaki (story) and Boichi (art)'s sci-fi adventure manga Dr. STONE is now in the works for a premiere in July 2019. The anime's official website and Twitter also open.
33-year-old voice actor Yusuke Kobbayashi, best known as Subaru Natsuki in Re:Zero − Starting Life in Another World and Arslan in The Heroic Legend of Arslan, is set to voice the protagonist Senku Ishigami. The manga's story writer Inagaki supervises all screenplays of the anime episodes.
The manga has been serialized in Shueisha's Weekly Shonen Jump since March 2017 and so far seven tankobon volumes have been available in Japan. Its English edition has been licensed by VIZ Media and its first volume was released in September 2018. The publisher introduces its story as follows:
One fateful day, all of humanity was petrified by a blinding flash of light. After several millennia, high
schooler Taiju awakens and finds himself lost in a world of statues. However, he's not alone! His science-
loving friend Senku's been up and running for a few months and he's got a grand plan in mind—to kickstart
civilization with the power of science!
The news was revealed in this year's 51st issue of Shonen Jump
このたび、週刊少年ジャンプにて好評連載中の「Dr.STONE」が、2019年7月からTVアニメ放送決定!本日公開の公式サイトに、原作:稲垣理一郎先生、作画:Boichi先生の記念コメント掲載!唆るぜ、これは!

■アニメ公式サイト:https://t.co/X5J2ZpgPOc 
■推奨ハッシュタグ:#ドクターストーン pic.twitter.com/5YJLHkviux

— アニメ「Dr.STONE」公式 (@STONE_anime_off) 2018年11月19日
Title logo
原作「Dr.STONE」ファンの皆様のお蔭でのTVアニメ化です、本当にありがとうございます!!

アニメロゴも完成!全人類石化から始まる物語ということで、石の質感にこだわりました…!作品イントロダクションは、公式サイトをご覧ください!https://t.co/X5J2ZpgPOc#ドクターストーン pic.twitter.com/BzCojaffRe

— アニメ「Dr.STONE」公式 (@STONE_anime_off) 2018年11月19日
Yusuke Kobayashi
【キャスト情報】
TVアニメ「Dr.STONE」主人公・千空(せんくう)役が、小林裕介さんに決定!超人的な頭脳を持つ、根っからの科学少年・千空を演じる小林さんの、理系出身ならではの激アツコメントは、アニメ公式HPにて!https://t.co/X5J2ZpgPOc#ドクターストーン pic.twitter.com/tqi6QHgOXV

— アニメ「Dr.STONE」公式 (@STONE_anime_off) 2018年11月19日
Manga tankobon 1st and 7th volume covers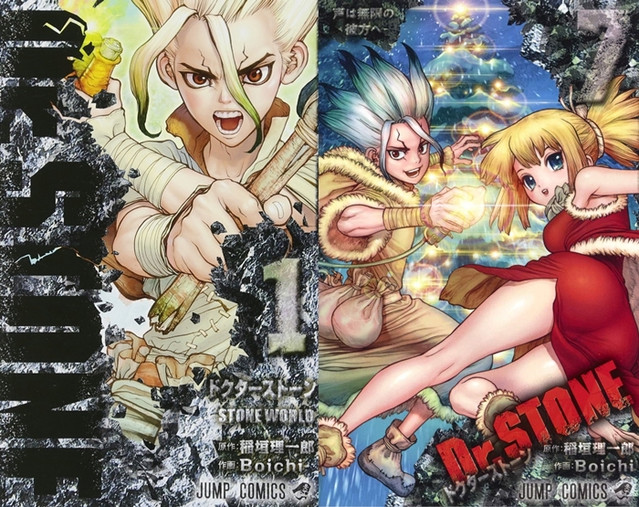 Trailer for the manga 1st volume
---
Source: TV anime "Dr.STONE" official website / Twitter
©Kome Studio, Boichi/Shueisha, Dr.STONE Production Committee