CloverWorks-animated TV anime adaptation is now streamed on Crunchyroll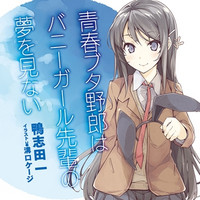 Publisher KADOKAWA announced today that Hajime Kamoshida's Seishun Buta-yayou/Rascal supernatural romance light novel series has printed one million copies in Japan in four years since its first volume Seishun Buta-yarou wa Bunny Girl Senpai no Yume o Minai/Rascal Does Not Dream of Bunny Girl Senpai was released in 2014. The novel series has released nine volumes so far and has two manga adaptations illustrated by Tsugumi Nanamiya and Tsukumo Asakusa.
The Seishun Buta-yayou/Rascal has become the author's second most successful series. The total print run of his previous hit series Sakura-sou no Pet na Kanojo/The Pet Girl of Sakurasou, which released 13 volumes from 2010 to 2014, was 1.8 million copies.
The author says, "I've heard it topped 1,000,000 copies. I can't figure out how many digit it is at a glance, but it is so many. It's all thanks to the people who have supported 'AoButa.' Thank you very much.
I look forward to your continued support." The novel illustrator Keeji Mizoguchi adds, "I really appreciate
for reaching one million copies. I want to keep contributing something to the TV anime's forthcoming
episodes, the feature film, and of course the novel's future stories, even though it might be a small help."
The news was revealed in a TV CM during the broadcast of the TV anime last night.
\原作シリーズ累計100万部突破/#青春ブタ野郎 シリーズが100万部突破です!
みなさんありがとうございます‼

TVアニメ放送内で放映したTVCMをWEB初公開

試し読みもしてみてくださいねhttps://t.co/PJzmWEtpRv#電撃文庫 #青ブタ pic.twitter.com/oENBYthrSY

— アニメ「青春ブタ野郎はバニーガール先輩の夢を見ない」公式 (@aobuta_anime) 2018年11月17日

Novel 1st and 9th volume covers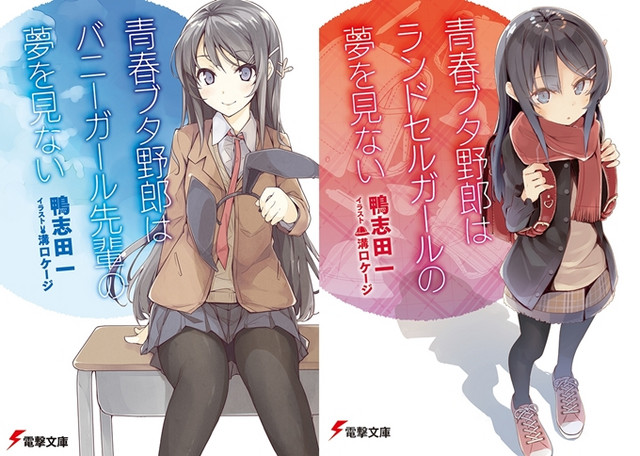 2nd to 8th volumes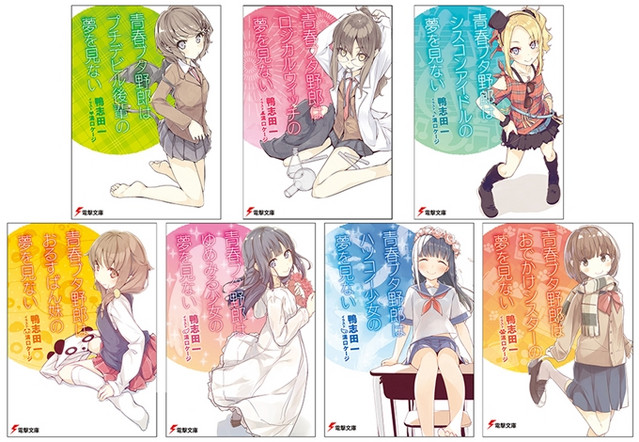 Manga adaptations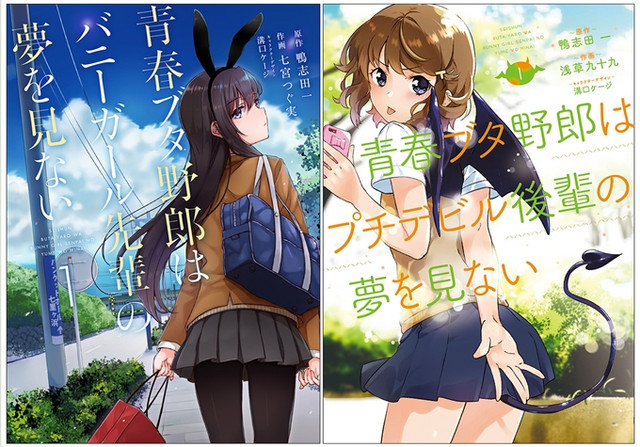 ---
The novel's TV anime adaptation, animated by CloverWorks (Slow Start, PERSONA5 the Animation),
has been aired in Japan since this October and has been also available to Crunchyroll members in
North America, Central America, South America, Australia, New Zealand, United Kingdom and Ireland.
Trailer
Key visual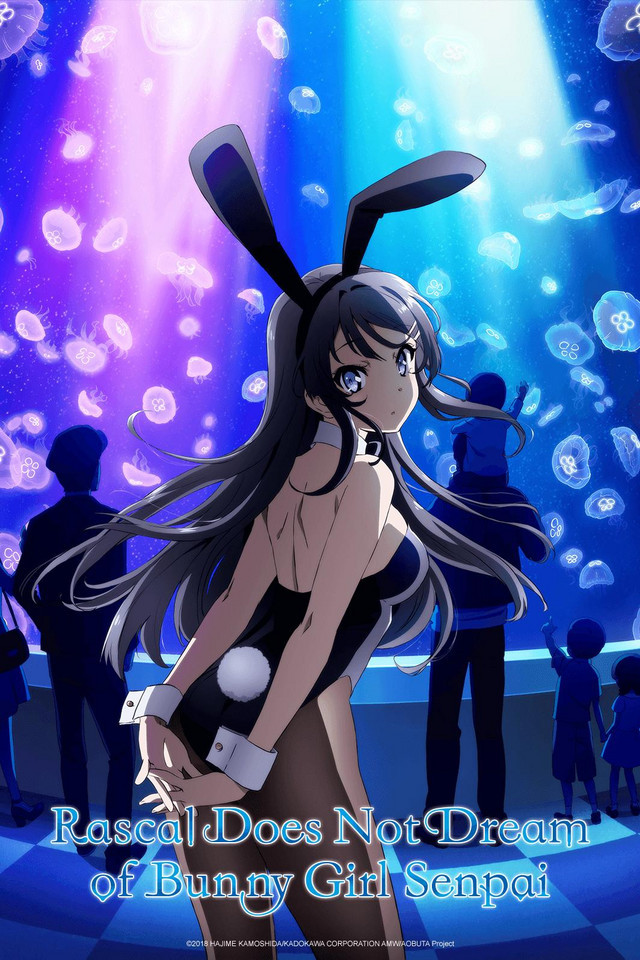 ---
Source: KADOKAWA press release
©2018 HAJIME KAMOSHIDA/KADOKAWA CORPORATION AMW/AOBUTA Project