The 13-episode series will premiere on December 21, 2018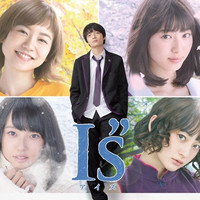 The official Twitter for the upcoming live-action drama adaptation of Masakazu Katsura (Video Girl Ai, DNA², ZETMAN)'s teen romance manga I"s has posted a key visual introducing its protagonist Ichitaka Seto (Amane Okayama/24) in the center, along with staring faces of its four heroines: Iori Yoshizuki (Sei Shiraishi/20), Itsuki Aoba (Kyouka Shibata/19), Izumi Isozaki (Minori Hagiwara/21), and Aiko Asou (Konatsu Kato/19).
After a promotional program to introduce its behind-the-scene on December 14, the live-action I"s is set to premiere on Sky Perfect TV's BS Skaper channel and streamed on Skaper On Demand service on 21:00 on December 21, 2018 (JST). It is scheduled to run for 13 episodes.
Key visual with a tagline: "It is overstated to call it love, but we had spent the same season."
キービジュアル公開!一貴の記憶の中に浮かび上がる季節を纏ったヒロイン達の姿を映し出したイメージです。ドラマキャッチコピー『僕等は、愛とゆうには大袈裟 だけど同じ季節を過ごしてた』このドラマで描く恋愛、青春、成長、自立、気持ちの交錯、誰かを想う事の大切さを詰め込んだ言葉になります。 pic.twitter.com/NwoHCPbYBh

— 【公式】ドラマ『I"s(アイズ)』 (@sptv_is) 2018年11月26日
Iori Yoshizuki: Sei Shiraishi (20/Yuka Shimizu in Haruchika live-action film)
ドラマ『I"s』葦月伊織役は白石聖さんに決まりました。
ようやく発表出来ました。
ゼロからのオーディションの中、この子なら、という想いで伊織役をお願いし、そこから今日まで彼女が演じたヒロインに間違いはなかったと思います。https://t.co/tZehaWnCtt
放送をお楽しみに! pic.twitter.com/FNcmC0zx5o

— 【公式】ドラマ『I"s(アイズ)』 (@sptv_is) 2018年11月9日
Itsuki Aoba: Kyouka Shibata (19/Ai Haibara in Detective Conan TV drama)
ドラマ『I"s』秋葉いつき役は柴田杏花さんに決まりました。
いつきの存在やメッセージはI"sストーリーの中核であり背骨のような存在だと思います。
そんな極めて重要な役所をしっかり理解し、向き合い形にしてくれました。https://t.co/Gg8FLn1j0G
放送をお楽しみに! pic.twitter.com/1RC0wzLsTZ

— 【公式】ドラマ『I"s(アイズ)』 (@sptv_is) 2018年11月13日
Izumi Isozaki: Minori Hagiwara (21/Yoko Uno in The Anthem of the Heart live-action film)
ドラマ『I"s』3人目のヒロイン磯崎泉役は萩原みのりさんに決まりました。
積極的でいて繊細な磯崎泉という難しい役どころを見事に体現し、その演技力は他のヒロイン達にも影響を与えるくらいドラマを盛り立ててくれたと思います。https://t.co/zhMlXfVZ3s
放送をお楽しみに! pic.twitter.com/Rccn4X4BOk

— 【公式】ドラマ『I"s(アイズ)』 (@sptv_is) 2018年11月16日
Aiko Asou: Konatsu Kato (19/her first serial drama role)
ドラマ『I"s』麻生藍子役は加藤小夏さんに決まりました。連ドラ初出演で撮影前の不安や戸惑いは加藤さんにもスタッフにもあったと思います。でもオーディションの時から光る素材、賭けてみたいと思わせる魅力はピカイチで、見事にその期待に応えてくれました。https://t.co/i0Uv3sYZVV
お楽しみに! pic.twitter.com/DqLQu6zAUF

— 【公式】ドラマ『I"s(アイズ)』 (@sptv_is) 2018年11月21日
---
Source: TV drama "I''s" official Twitter
(C) MASAKAZU KATSURA,Shueisha/Skaper! 2018