Original TV anime creator and director Shinichiro Watanabe to return for creative consulting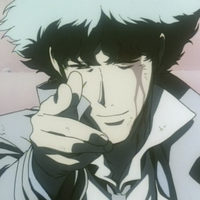 3, 2, 1...let's jam! Cowboy Bebop, one of the most beloved anime series of all time, is coming to live-action via Netflix, Variety reports. The 26-episode anime series from 1998 follows the adventures of a motley crew of bounty hunters (and more) in space, and the upcoming 10-episode live-action series is anticipated to follow the same direction.
Tomorrow Studios, the same studio behind the upcoming One Piece live-action Hollywood film, will be producing the series for Netflix, with original TV anime creator and director Shinichiro Watanabe to serve as a creative consultant. Chris Yost, screenplay writer for Thor: The Dark World (2013) and Thor: Ragnarok (2017), will be penning the first of ten episodes.
Guess it's time to announce that Cowboy Bebop, the live-action series, is heading to @Netflix. pic.twitter.com/bKe0d8EKoH

— NX (@NXOnNetflix) November 28, 2018
This announcement comes barely 24 hours after Netflix's major annoucnement that it will be adding Neon Genesis Evangelion to the service in the spring of 2019.
While Netflix did not provide details regarding the series' cast, director, or release date, it's worth noting that the streaming service is putting considerable focus on live-action adaptations of other anime and animated property, from licensing the Japanese Fullmetal Alchemist and Bleach adapations, to greenlighting a second Death Note film, to bringing Sword Art Online to live-action.
This isn't the first time that a Cowboy Bebop live-action adaptation has gotten underway. In the mid 2000s, Fox had greenlit a Cowboy Bebop feature film with Keanu Reeves to star in the role of Spike Spiegel. In 2009, Reeves noted that the film was going through a rewrite process to cut down on the overly ambitious script. Not much else was heard from the project since then, and the project has been assumed dead - particularly since the first mention of Netflix's project. There's no word on Keanu Reeves being assotiated with the current live-action series for Netflix, and based on the actors' previous comments about the role, there's no reason to think that he'd be in the running to play Spike.