His latest collaboration work with Tsugumi Ohba, "Platinum End" is now serialized in Jump Square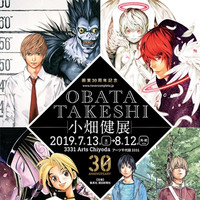 In commemoration for the 30th anniversary of 49-year-old Takeshi Obata's manga artist activity, his first art exhibition is decided to be held at 3331 Arts Chiyoda in Tokyo from July 13 to August 12, 2019.
After winning an associate prize in the 30th Tezuka Award for his one shot story 500 Kounen no Shinwa (The myth of 500 light years) in 1985 when he was 17 and working as an assistant to Ryuji Tsugihara (Yoroshiku Mechadoc) and Makoto Niwano (The Momotaroh), he made his debut in Weekly Shonen Jump with his first serialization work Cyborg Jii-chan G in 1989. His first hit series was Hikaru no Go (1998-2003/story by Yumi Hotta), and he has been known for his internationally popular collaboration works with Tsugumi Ohba, such as Death Note (2003-2006), Bakuman. (2008-2012), and the ongoing Platinum End (2015-).
Selected original drawings from his archive with more than 15,000 art works will be displayed at the
one-month exhibition. More details including ticket information will be announced on the exhibition's
小畑健の画業30周年を記念した初の展覧会、2019年夏に開催決定https://t.co/u7GClx2OhC pic.twitter.com/0d3rqY0uiw

— コミックナタリー (@comic_natalie) 2018年12月3日
---
Source: Comic Natalie
(c)Takeshi Obata/Shueisha
(c)Susumu Sendo, Takeshi Obata/Shueisha
(c)Sharakumaro, Takeshi Obata/Shueisha
(c)Yumi Hotta, Takshi Obata/Shueisha
(c)Tsugumi Ohba, Takeshi Obata/Shueisha
(c)Tsuneo Takano, Takeshi Obata/Shueisha
(c)Hiroshi Sakurazaka, Ryosuke Takeuchi, Yoshitoshi ABe, Takeshi Obata/Shueisha
(c)Nobuaki Enoki, Takeshi Obata/Shueisha