Der Januar wird magisch bei uns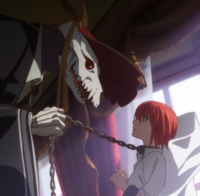 Wir sind zwar aktuell fleißíg dabei, unseren Katalog um englische Vertonungen zu erweitern, doch heißt das natürlich nicht, dass wir nicht auch an weiteren deutschen Synchros arbeiten - und sie kommen schon eher, als ihr denkt!
Denn schon ab dem 15. Januar könnt ihr bei uns drei neue Titel mit deutscher Vertonung genießen - darunter auch einen, den sich besonders viele gewünscht haben!
Nächsten Monat erwarten euch deutsche Vertonungen zu The Ancient Magus' Bride, Recovery of an MMO Junkie und In Another World with my Smartphone!
Dies beinhaltet im Übrigen die OVAs zu The Ancient Magus' Bride und Recovery of an MMO Junkie. Chises Kindheit und Sakurais ersten Besuch bei Moriko könnt ihr also ebenfalls in deutscher Sprache erleben.
Die genauen Sprecher werden wir über die nächsten Wochen enthüllen. Haltet also ein genaues Auge auf unsere Facebook-, Twitter- und YouTube-Kanäle, um nichts zu verpassen!