Shouta Aoi newly joins as the voice of a messenger from the super dimensional existence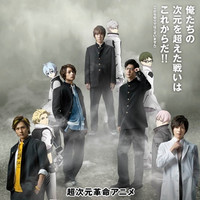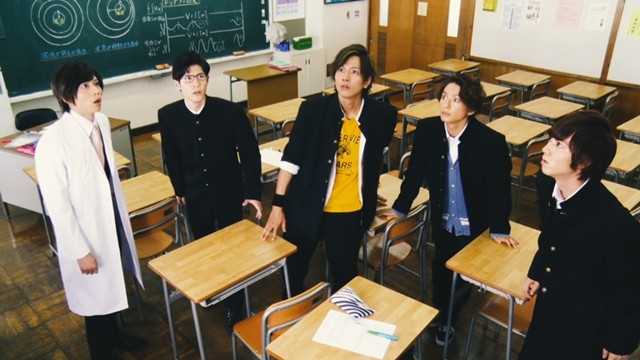 Along with a key visual featuring its five main characters and their anime version visuals, the official
website for Super Dimensional Revolution Anime: Dimension High School has posted a 100-second PV
to show how the five are sent to a 3DCG anime world in the beginning of the story. In addition, the clip
introduces a new cast member, Shouta Aoi as a messenger from the super dimensional existence.
The anime/live-action hybrid series Super Dimensional Revolution Anime: Dimension High School is
set to premiere on Tokyo MX and J:COM TV on January 10, 2019. Its story follows four high school
students and one teacher who are sent to an two-dimensional (anime) world by the speaking meteor
Spoodio the 22nd. Their mission is to defeat Destruction Evil God Sphinx who plans to conquer the
three-dimensional (live-action) world, by answering his puzzles.
PV
Key visual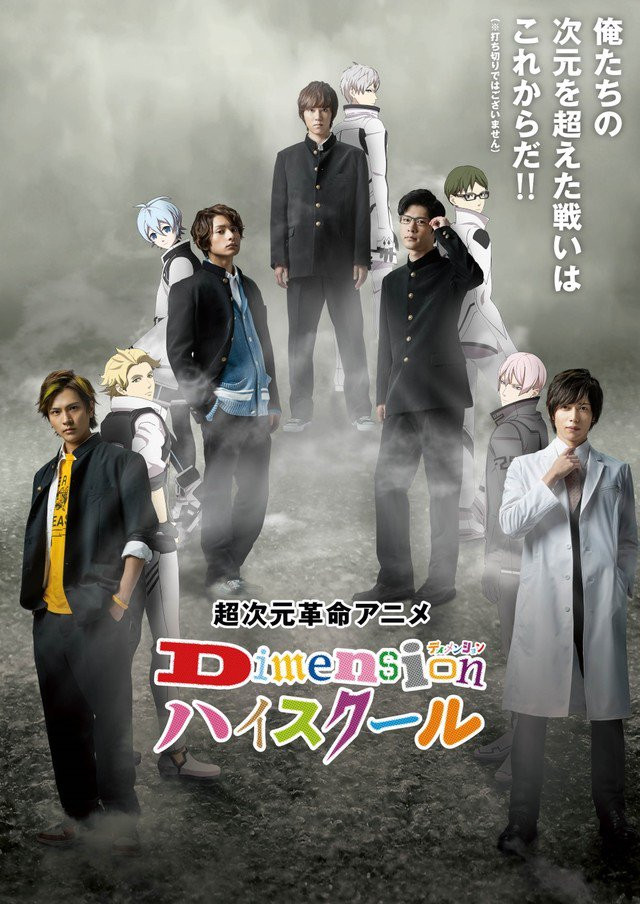 The OP song "Here we go!" is performed by 4 Dimensions, the unit consists of its four main cast: Takuma Zaiki
(Tsuyoshi Kikawada), Yurio Minakami (Shohei Hashimoto), Hidetaka Ishii (Junpei Shirayama), Takeo Ohtsuka
(Ryusei Midorigaoka). The song's CD single is set to be released on February 13, 2019.
『#Dスク』OPテーマは、
メンバーによるユニット曲に決定

「Here we go!」/ 4 Dimensions
白山純平(#石井孝英)
緑ヶ丘流星(#大塚剛央)
水上ゆりお(#橋本祥平)
黄川田 剛(#財木琢磨)

2019年2月13日(水)CD発売
ソロverも収録される他、DVD付き限定盤にはMV撮影のメイキング映像も pic.twitter.com/faQMHM4BjO

— 『Dimensionハイスクール』公式 (@dimension_hs) 2018年12月12日
Main cast
Tsuyoshi Kikawada: Takuma Zaiki (Kunimitsu Tezuka in The Prince of Tennis Musical)
Shohei Hashimoto: Yurio Minakami
Junpei Shirayama: Hidetaka Ishii (Nanao Wakura in Cute High Earth Defense Club HAPPY KISS!)
Ryusei Midorigaoka: Takeo Ohtsuka (Rimo in Flavors of Youth)
Soushi Momotani: Toshiyuki Someya (Rin Hirakoba in The Prince of Tennis Musical)
Destruction Evil God Sphinx: Junichi Suwabe (Keigo Atobe in The Prince of Tennise)
Sppodio The 22nd: Takuya Eguchi (Hachiman Hikigaya in My Youth Romantic Comedy Is Wrong, As I Expected)
Messenger from the super dimensional exisitence: Shouta Aoi (Ai Mikaze in Uta no Prince-sama)
---
Source: Dimension High School" official website / Twitter
©Dimension High School Production Committee