Erste Einblicke in unsere kommende Vertonung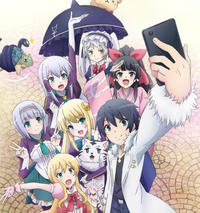 Die Veröffentlichung unserer nächsten deutschen Vertonungen ist zwar noch mehr als einen Monat entfernt, doch da wir uns ja in der Weihnachtszeit befinden, beschenken wir euch dieses Mal schon etwas früher mit Clips und Blicke hinter die Kulissen.
Den Anfang macht dabei Touya mit seiner weiblichen Gefolgschaft aus In Another World With My Smartphone. Im Folgenden findet ihr einen ersten Synchro-Clip sowie die Liste der deutschen Sprecher. Über die nächsten Tage werden wir weitere Clips sowie Interviews mit den Sprechern ergänzen und mit jeder Enthüllung auch unsere Liste aktualisieren. Schaut also regelmäßig vorbei, um nichts zu verpassen!
Und da gewiss einige von euch neugierig darauf sind: Für The Ancient Magus' Bride und Recovery of an MMO Junkie wird es im Anschluss natürlich ähnliche Übersichten geben~
Nun wünschen wir euch aber viel Spaß mit einem ersten Einblick in Touyas Abenteuer in deutscher Sprache!
| | |
| --- | --- |
| Rolle | Sprecher |
| Touya Mochizuki | Jesse Grimm |
| Gott | Gerhart Hinze |
| Zanac | Volker Hanisch |
| Elze | Katharina von Keller |
| Linze | Sarah Tusk |
| Yae | Leoni Oeffinger |
| Aer | Linda Fölster |
| Micah/Tsubaki | Leoni Landa |
| Alfred | Konstantin Graudus |
| Sushie | Florentine Stein |
| Leim | Jürgen Uter |
| Dolan/Ieyasu | Achim Buch |
| Barral/Yamukha | Erik Schäffler |
| Alma/Ayane | Manuela Eifrig |
| Olga | Nadine Schreier |
| Leon | Nils Rieke |
| Charlotte | Jannika Jira |
| Kohaku | Kerstin Dreager |
| König | Christian Rudolf |
| Balsa | Michael Prelle |
| Yuel | Annic-Barbara Fenske |
| Yumina | Emily Seubert |
| Lime/Lene | Selina Böttcher |
| Cecile | Franziska Trunte |
| Lyon | Jonas Minthe |
| Garen | Marcus Just |