The new SD Gundam project will launch in the spring of 2019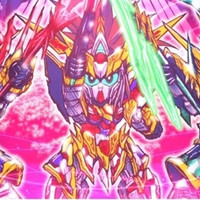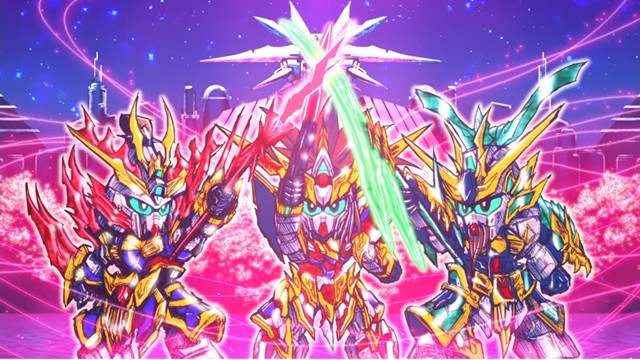 The official global website for SD GUNDAM WORLD SANGOKU SOKETSUDEN, the upcoming new SD
Gundam project loosely based on the Chinese historical novel Romance of the Three Kingdoms, opens
today for its worldwide launch in the spring of 2019. The site and a 110-second PV reveals its world setting,
story, and main characters.
The story introduction:
Repeated warfare has destroyed countries that once prospered gloriously, leaving the land in ruins.
Just when revival is in sight, an epidemic of the mysterious Yellow Zombie Virus breaks out.
The virus carriers lose themselves and start attacking people. The survivors are forced to live inside
fortified cities for protection.
However, behind closed walls, the lord Dong Zhuo has been acting in an outrageous manner since
the passing of the previous lord. As if drawn together by destiny, Liu Bei Unicorn Gundam meets
Guan Yu Nu Gundam and Zhang Fei God Gundam, and decides to save the world.
Eventually, the passion of the three young men will bring about great change in the world. The new
heroes unveil a new chapter in history!
English sub
TW sub
HK sub
CN sub
Korean PV
---
SD GUNDAM WORLD SANGOKU SOKETSUDEN is one of the five projects for the Gundam franchise's
40th anniversary revealed last month. Other four projects are:
1. "Mobile Suit Gundam The Origin" TV series
- Based on the six-part OVA released from 2015 to 2018, a re-edited edition will be aired for 13 episodes
on NHK General TV from April 2019.
2. New "Gundam Build" series
- Following Gundam Build Fighters (2013-2014), Gundam Build Fighters Try (2014-2016) and Gundam Build
Divers (2018), a new Gundam Build series is now in development.
3. "Gundam Reconguista in G" compilation film
- a compilation film based on the 26-episode TV series Gundam Reconguista in G (2014-2015) is set to
be released sometime in 2019.
4. "Mobile Suit Gundam: Hathaway's Flash" trilogy film
- Three-part feature film based on Yoshiyuki Tomino's spin-off/sequel novel of the same name (1989-1990).
---
Source: "SD GUNDAM WORLD SANGOKU SOKETSUDEN" global site
©SOTSU・SUNRISE