Photographer Shiori Iwakura provides the new bunko's cover photos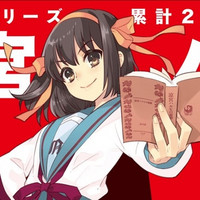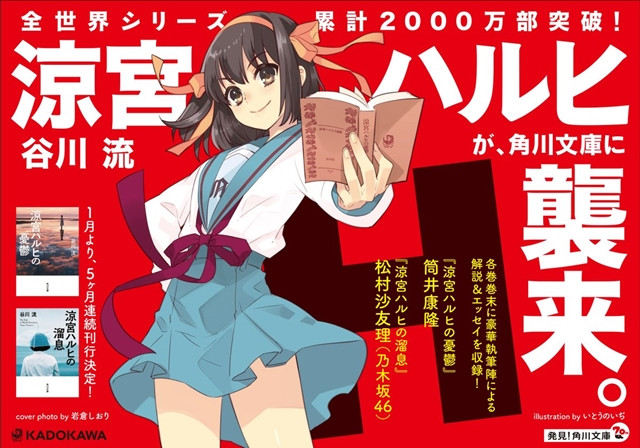 KADOKAWA's literature information Twitter KadoBun announced today that the Haruhi Suzumiya novel
series by Nagaru Tanigawa will be re-released from its Kadokawa Bunko imprint for five consecutive
months from January 2019. The internationally popular sci-fi series was originally released from its light
novel imprint Kadokawa Sneaker Bunko from 2003 to 2011, and has printed over 20 million copies worldwide.
While the original novel illustrator Noizi Ito draw a new illustration of Haruhi holding a Kadokawa Bunko
book for the announcement visual above, the new bunko edition's covers will feature photos provided by
photographer Shiroi Iwakura instead of her illustrations.
84-year-old renowned sci-fi author Yasutaka Tsutsui (The Girl Who Leapt Through Time) provides a
commentary article for the novel's first volume The Melancholy of Haruhi Suzumiya, while Sayuri
Matsumura, a 26-year-old member of idol group Nogizaka46, writes an essay for the second volume
The Sigh of Haruhi Suzumiya.
「涼宮ハルヒ」シリーズ角川文庫に襲来!!2019年1月より5ヶ月連続で刊行予定です。各巻巻末には豪華執筆陣による解説&エッセイを収録。『憂鬱』は筒井康隆さん、『溜息』は松村沙友理さん(乃木坂46)です。装丁には人気写真家・岩倉しおり@Shiori1012 さんの写真をお借りしました。#涼宮ハルヒの憂鬱 pic.twitter.com/6f0Wtvo4OV

— カドブン (@KadokawaBunko) 2018年12月18日
---
Source: "KadoBun" Twitter via: MantanWeb