O filme é uma continuação direta da história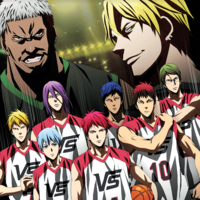 Na semana passada anunciamos a chegada dos filmes compilatórios de Haikyu!! e mais algumas novidades também foram adicionadas ao acervo, porém não vamos parar por aí!
Mais um filme está chegando na Crunchyroll.pt, novamente um anime de esporte, dessa vez temos o prazer de anunciar com exclusividade para os assinantes premium do Brasil a adição de Kuroko's Basketball The Movie LAST GAME!.
Lançado para os cinemas em 2017, o filme é uma adaptação do mangá Kuroko no Basket Extra Game e contará com um confronto entre uma equipe composta de cinco membros da Geração dos Milagres, mais Kuroko e Kagami, e uma equipe americana.
Kuroko's Basketball The Movie LAST GAME!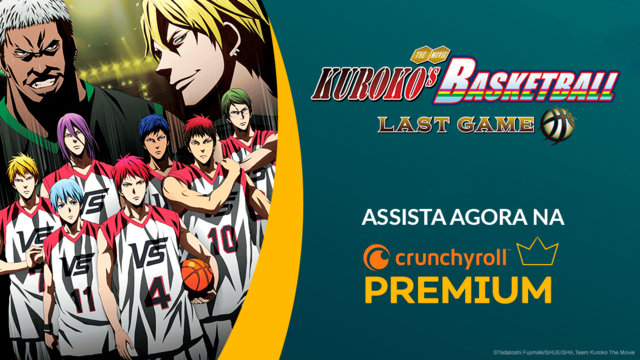 Sinopse:
Kuroko Tetsuya e Kagami Taiga entram no clube de basquete do Colégio Seirin. Enquanto Kagami demonstra um talento excepcional, Kuroko revela ter pouquíssima presença na quadra. Contudo, Kuroko foi o "Sexto Membro Fantasma", que jogou com outros cinco prodígios na Geração dos Milagres do Colégio Teiko. Famosos por comporem uma dupla de "luz e sombras", eles tornam-se os principais jogadores do time, e levam o Colégio Seirin até as finais do Torneio de Inverno onde, após uma disputada batalha contra a "Geração dos Milagres", eles finalmente tornam-se campeões nacionais.

Chega o verão, e Kuroko e sua turma escolar completam seu segundo ano de colegial, quando um famoso time americano de basquete de rua chega ao Japão: o Jabberwock. Contudo, naquilo que devia ser uma partida amistosa, eles esmagam o time japonês com sua força avassaladora e humilham o basquete nipônico. Furioso com a atitude desrespeitosa, o pai de Riko reúne Kuroko, Kagami e a Geração dos Milagres, e desafia Jabberwock para uma revanche! Numa formação nunca antes vista, o dream team do basquete colegial é formado: os VORPAL SWORDS!
Confira outros animes completos recentemente adicionados ao acervo da Crunchyroll.pt: