Auf nach Fruits de Mer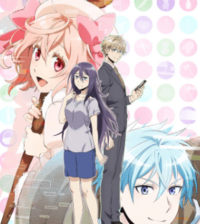 In weniger als zwei Wochen ist es soweit: Unsere neuen deutschen Synchros sind fast da! Und nachdem wir euch bereits eine Geschmacksprobe von In Another World with my Smartphone und The Ancient Magus' Bride gegeben haben, wenden wir unsere Aufmerksamkeit nun dem Dritten im Bunde zu!
Im Folgenden findet ihr den ersten Clip mit einigen Mitgliedern unserer Lieblingsgilde @HomeParty. Weitere Clips folgen dann demnächst.

Die komplette Synchro könnt ihr dann ab dem 15. Januar exklusiv hier bei uns schauen!
| | |
| --- | --- |
| Rolle | Sprecher |
| Hayashi | Johannes Semm |
| Lilac/Lailah | Liza Ohm |
| Kanbe | Patrick Stamme |
| Himeralda | Tim Kreuer |
| Lily | Linda Fölster |
| Moriko Morioka/Molly | Saskia Bellahn |
| Yuta Sakurai/Harth | Patrick Bach |
| Pokotaro | Jens Wendland |
| Homare/Harumi | Fabian Harloff |
| Haas | Lino Kelian |
| Nico | Maria Wardzinska |
| Yashiro | Stephanie Damare |
| Yuki | Florentine Stein |