Much-anticipated second film will be released in Japan on July 19, 2019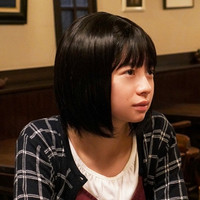 The official website for the live-action film project based on Sui Ishida's dark fantasy manga series Tokyo Ghoul confirmed today that 16-year-old actress Hiyori Sakurada is reprising her role as ghoul girl Hinami Fueguchi following the first film in 2017. She is best known as Shizuno Takakamo in the Saki Achiga-hen episode of side-A live-action film in 2018.
Hinami has lived in Cafe Anteiku, which has become a shelter for ghouls, and has shared strong pseudo-sibling relationships with both Ken Kaneki and Touka Kirishima. In the first film, her mother Ryoko was played by Shoko Aida, a member of Japanese duo Wink.
Sakurada says, "Following the previous film, I will appear as Hinami Fueguchi. I was very happy to receive an offer as Hinami, I went to the set feeling so excited. Meeting and playing Hinami again, who overcomes the sad event and becomes an adult a little bit, was like a magical moment for me."
????場面写真 解禁????
7月19日(金)公開『#東京喰種 トーキョーグール2』で、高い演技力で注目を浴びる人気女優 #桜田ひより さんが、喰種の少女・笛口雛実(フエグチ ヒナミ)役として再び登場‼

前作で母親を亡くした悲しみを乗り越え、本作では少し大人になったヒナミの新たな姿にご注目✨ pic.twitter.com/AOUexmVc0C

— 映画『東京喰種 トーキョーグール』 (@tkg_movie) 2019年1月8日
The highly-anticipated sequel is set to be released in Japan on July 19, 2019, just two years after the first
film released on July 29, 2017.
???? #謹賀新年 ????

――2019年は喰種<グール>の年‼

映画『#東京喰種 トーキョーグール2(仮)』
2019.07.19.Fri 公開

※音声をONにしてお楽しみ下さい。 pic.twitter.com/OPVWI3UsaG

— 映画『東京喰種 トーキョーグール』 (@tkg_movie) 2019年1月1日
Ken kaneki (Masataka Kubota) and Touka Kirishima (Maika Yamamaoto)
????公開日決定????
『#東京喰種 トーキョーグール2(仮)』が、【2019年7月19日(金)】に公開決定????

さらに、喰種(グール)たちが通う喫茶店"あんていく"の制服を着た #窪田正孝 さん演じるカネキと、#山本舞香 さん演じるトーカの写真を初公開‼ pic.twitter.com/uNwjd16MCM

— 映画『東京喰種 トーキョーグール』 (@tkg_movie) 2018年12月19日
---
Source: "Tokyo Ghoul" live-actiob film project official Twitter
© Sui Ishida/Shueisha
© "Tokyo Ghoul" Production Committee