À suivre cet hiver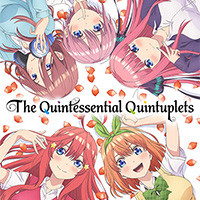 Voici une annonce de plus autour des nouveautés que vous pourrez suivre cet hiver en simulcast en VOSTFR sur Crunchyroll : la comédie shônen The Quintessential Quintuplets (Gotôbun no Hanayome).
RÉSUMÉ
Fûtarô Uesugi est un lycéen issu d'une famille modeste. Un jour, il reçoit une alléchante proposition pour un poste fort bien rémunéré en tant que professeur particulier à temps partiel. Mais voilà, les filles dont il doit s'occuper sont dans sa propre classe ! De plus, ce sont des quintuplées ! Toutes les cinq sont très séduisantes, mais ce sont des élèves à problèmes car elles détestent étudier et leurs notes s'en ressentent. La première mission de Fûtarô sera donc de gagner la confiance des sœurs Nakano...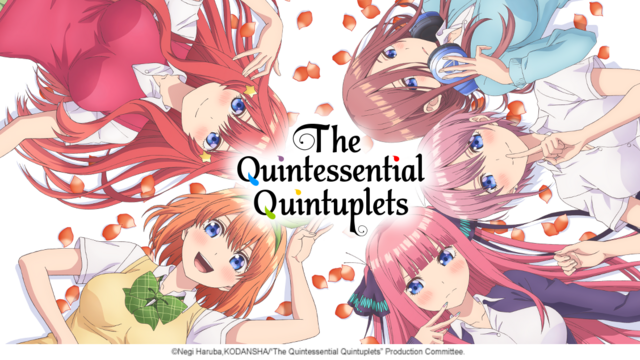 À SAVOIR
– L'histoire est adaptée d'un manga publié au Japon depuis 2017 dans le Weekly Shônen Magazine (Fairy Tail, Seven Deadly Sins...) de Kôdansha.
– La série est réalisée par Satoshi Kawabara (Yu-Gi-Oh! Zexal, Dagashi Kashi 2)
CRUNCHYROLL
Lancement au Japon : 10 janvier 2019
Diffusion : chaque jeudi à 23 heures
Page Crunchyroll : /the-quintessential-quintuplets
FICHE TECHNIQUE
Titre original : Gotôbun no Hanayome (五等分の花嫁)
Genre : comédie
Année : 2019
Format : épisodes de 23 min
Auteur : Negi Haruba
Réalisateur : Satoshi Kuwabara
Studio de production : Tezuka Productions
TERRITOIRES
The Quintessential Quintuplets sera disponible sur Crunchyroll dans le monde entier, excepté en Asie et au Moyen-Orient.
©Negi Haruba,KODANSHA/"The Quintessential Quintuplets" Production Committee