La película se estrenaba el 4 de enero de 2019 en cines japoneses.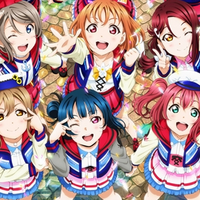 La película Love Live! Sunshine!! The School Idol Movie Over the Rainbow ha colgado un video con los siete primeros minutos de metraje del filme.
La película se estrenaba el 4 de enero de 2019 en cines japoneses.
Tras ganar las chicas de Aquors del instituto Uranohoshi el Love Live!, se preparan para entrar en una nueva escuela, aunque las chicas tanto de primero como de segundo se encuentran con problemas inesperados. Para colmo, en el viaje de graduación las chicas de tercero se pierden. Al separarse, las chicas de Aquors aprecian más que nunca el valor de su unidad. Para poder avanzar, tendrán que decidir cómo reaccionarán ante sus nuevas situaciones.
El reparto regresa desde la serie de televisión, siendo así este:
Ai Furihata como Ruby Kurosawa
Aika Kobaashi como Yoshiko "Yohane" Tsushima
Aina Suzuki como Mari Ohara
Anju Inami como Chika Takami
Arisa Komiya como Dia Kurosawa
Kanako Takatsuki como Hanamaru Kunikida
Nanaka Suwa como Kanan Matsura
Rikako Aida como Riko Sakurauchi
Shuka Saito como Yo Watanabe
El equipo es también el mismo que en el anime para televisión, con Kazuo Sakai al mando de la dirección bajo el estudio Sunrise. Jukki Hanada se encarga del guion, Yuhei Murota de los diseños originales de personajes, Junichi Higashi de la dirección artística, Go Kurosaki de la dirección de CGI y Daiki Sugiyama de la dirección de fotografía. Sayoko Yokoyama será responsable del diseño de color, Daisuke Imai de la edición y Takeshi Takahashi de los fondos.
La música la compuso Tatsuya Kato, siendo la dirección de sonido de Yukio Nagasaki y la producción musical de Lantis.
La primera temporada del anime Love Live! Sunshine!! se estrenaba en julio de 2016, llegando la segunda en octubre de 2017.
Fuente: ANN