Instead of the late Toshiko Fujita, Hitomi VA Keiko Toda also voices the eldest sister Rui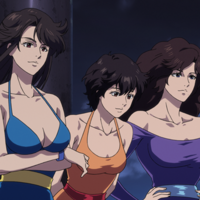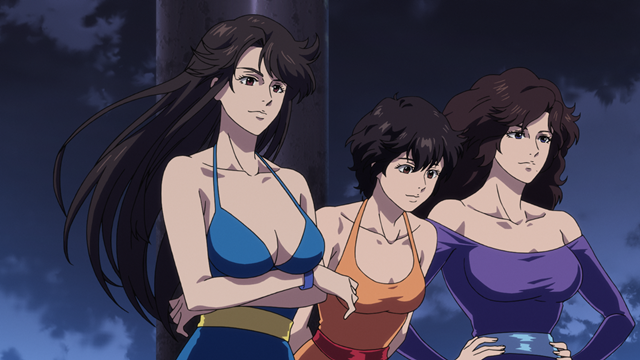 The latest second trailer for the upcoming all-new anime feature film based on Tsukasa Hojo's City Hunter
action comedy manga series, City Hunter The Movie: Shinjuku Private Eyes, posted today reveals that the
three Kisugi sisters from Hojo's another popular manga series Cat's Eye, make a special appearance in the
film. The song "Cat's Eye" featured in the clip for a quick moment in the clip is the OP theme song fof the
Cat's Eye manga's first TV anime adaptation aired in Japan in 1983-1984.
The film's official website also confirmed that two original voice cast from the two TV anime series in the
mid-1980s, Keiko Toda and Chika Sakamoto are reprising their roles, second sister Hitomi and third sister
Ai, respectively. Unfortunately, the eldest sister Rui's original VA Toshiko Fujita passed away last December,
so Toda also voices Rui in place of her.
City Hunter The Movie: Shinjuku Private Eyes is set to be released in Japan on February 8, 2019.
2nd trailer
????2月8日(金)公開「#劇場版シティーハンター <新宿プライベート・アイズ>」に、あの伝説の三姉妹「#キャッツアイ」が登場????

<キャスト>
来生 瞳・泪:#戸田恵子
来生 愛:#坂本千夏

■本予告第二弾https://t.co/FsnjjGigPY#シティーハンター #CITYHUNTER#来生三姉妹 pic.twitter.com/5TvRGVvnOM

— アニメ「劇場版シティーハンター <新宿プライベート・アイズ>」公式 (@cityhuntermovie) 2019年1月10日
Main voice cast:
Ryo Saeba: Akira Kamiya
Kaori Makimura: Kazue Ikura
Saeko Nogami: Harumi Ichiryusai/Yoko Asagami
Umibouzu: Tessho Genda
Miki: Mami Koyama
Ai Shindo: Marie Iitoyo
Shinji Okuni: Koichi Yamadera
Vince Ingrad: Hochu Ohtsuka
Main poster visual
待たせたなー俺を呼んだのは君だろ❓

「#劇場版シティーハンター <新宿プライベート・アイズ>」
第3弾となる本ポスタービジュアルを公開いたしました????

■映画公式サイトhttps://t.co/zye0vSVXm4#シティーハンター #CITYHUNTER

新たなる伝説(#XYZ)が、ここから始まる。

2019.2.8[FRI] ROADSHOW pic.twitter.com/kirNep1IiN

— アニメ「劇場版シティーハンター <新宿プライベート・アイズ>」公式 (@cityhuntermovie) 2018年12月12日
---
Source: "City Hunter The Movie" official website/Twitter
(C)Tsukasa Hojo/NSP, "2019 City Hunter The Movie" Production Committee