Etsuko Kozakura (Jibanyan in Yo-kai Watch) makes a guest voice apprarance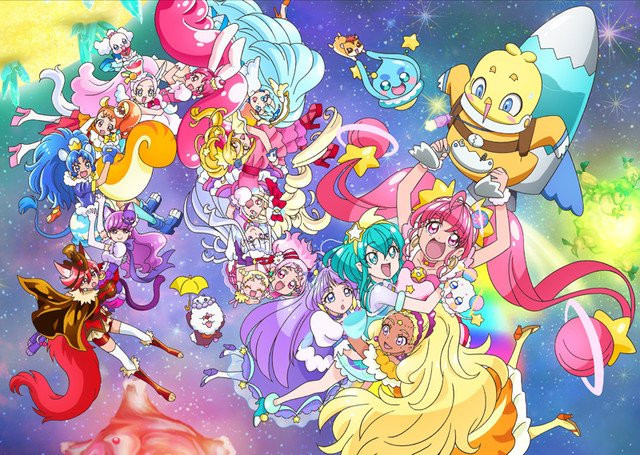 The official website for PreCure Miracle Universe, the next 26th feature film from Toei Animation's
PreCure anime franchise, has started streaming a 90-second full trailer introducing the three PreCure
teams to be featured in the film: the 14th series Kirakira PreCure a la Mode (2017–2018), the 15th
series Hugtto! PreCure (2018-2019), and the next 16th series Star☆Twinkle PreCure (2019-).
The film's story follows the PreCure girls' space adventure to seek out the secret of Miracle Light.
The clip also introduces a guest character for the film, Piton, voiced by Etsuko Kozakura (Jibanyan in
Yo-kai Watch). The character is an apprentice at the Miracle Light factory in space. In addition, the
film's ED theme song "WINkuru! Miracle Universe☆" performed by Rie Kitagawa (Go! Princess PreCure
ED, Maho Girls PreCure! OP) is also featured.
Full trailer
~映画オリジナルキャラクター:ピトン~????
ミラクルライトの見習い職人"ピトン"が初登場!
ピトンの声を担当するのは…「妖怪ウォッチ」のジバニャンの声も務める
"小桜エツコ"さん!ひかるたちはピトンとともに宇宙の冒険へ出発!
#映画プリキュア #precure #スタプリ pic.twitter.com/3cG5H48wl7

— 映画プリキュアミラクルユニバース (@precure_movie) 2019年1月10日
PreCure Miracle Universe is directed by Yukio Kaizawa (Kirakira PreCure a la Mode co-series director)
and is set to be released in Japan on March 16, 2019.
Poster visual
✨ポスタービジュアル解禁!✨
「スター☆トゥイクルプリキュア」「HUGっと!プリキュア」「キラキラ☆プリキュアアラモード」のみんなが宇宙で大活躍!!

後ろにはなんとミラクルライトの工場が!?
新たなステージで活躍するプリキュアにご期待ください!#映画プリキュア #precure #スタプリ pic.twitter.com/9cWkBBPkrL

— 映画プリキュアミラクルユニバース (@precure_movie) 2018年12月27日
The film's story is about a planet that has produced "Miracle Light" that has been used as the key item
in the previous PreCure films (and given to the audience to cheer up the PreCure girls during the screening),
which is located somewhere in outer space. One day, Hikaru Hoshina, the protagonist of Star☆Twinkle
PreCure, is moved to the space instantly by supernatural power when she watches the stars. Then the
lights are gone, darkness starts covering the stars. But she doesn't give up a hope to get back the space's
lights, and she needs supports from the audience.
---
Source: "PreCure Miracle Universe" official website / Twitter
©2019 Movie PreCure Miracle Universe Production Committee