Cellulos et documents sur la création d'un animé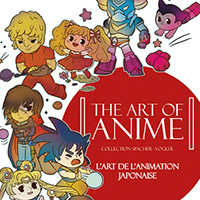 Du 18 janvier au 1er mars 2019, la ville de Levallois près de Paris accueille l'exposition The Art of Anime. Sur quelque 300 m² seront exposés des documents originaux ayant servi à l'élaboration de séries animées japonaises des années 1960 à 2000, notamment des celluloïds, mais aussi des décors, genga (dessin clé), etc. Des classiques, de Tom Sawyer à Dragon Ball Z, en passant par Albator ou Sailor Moon sont ainsi représentés.
Car si aujourd'hui la création d'animé au Japon est devenue en grande partie numérique, il fut un temps pas si lointain où tout était fait à la main, sur du papier, des cellulos (feuille transparente sur laquelle on peignait les personnages) et photographié sur pellicule. Au total, une centaine de pièces provenant d'une collection privée destinée à préserver ce précieux patrimoine et ce savoir-faire développé pendant plusieurs décennies !
The Art of Anime se tiendra à L'Escale, 25 Rue de la Gare, 92300 Levallois-Perret, à deux pas de la gare de Clichy-Levallois.
L'entrée est gratuite et accessible aux personnes à mobilité réduite.
Plus d'informations sur la page Facebook The Art of Anime.