Its 6th Blu-ray's release day is changed to four months later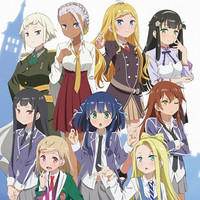 The official Japanese website for the TV anime Maerchen Maedchen announced on January 15 that the release of its unaired 11th and 12th episodes are postponed again.
【再延期のお知らせ】
アニメ『メルヘン・メドヘン』未公開の第11話・第12話につきまして、都合により公開および発売を再度延期させて頂きます。

公開時期:
2019年4月以降に延期

第6巻発売日:
2019年5月30日(木)に延期

詳細は以下よりご確認下さい。https://t.co/RHcSrqtgzV#メルヘンメドヘン

— 『メルヘン・メドヘン』公式 (@maerchen_anime) 2019年1月15日
Back in March 2018, the broadcast of the anime's 9th and 10th episodes were postponed two weeks in
order to "improve animation quality." As a result, the last two episodes were removed from the original
broadcast schedule. At the time, the two were planned to be released in some form in December 2018
and included in the last 6th Blu-ray volume that was scheduled to be released on January 30, 2019 (the
disc's first original release date was September 28, 2018).
However, due to circumstances, the release date of the last two episodes is again postponed to "after April
2019," and the release date of the 6th Blu-ray volume is changed to May 30, 2019. The site says that they
have been continuously working on the anime to deliver its whole episodes including the last 12th.
---
The first ten episodes of Maerchen Maedchen were aired in Japan from January 11 to March 29, 2018,
and have been also available to Crunchyroll members in the following territories: North America, UK,
Ireland, Australia, New Zealand, Scandinavia, South Africa, Netherlands and Latin America.
---
Source: TV anime "Märchen Mädchen" official Japanese website / Twitter
©MMM/Maerchen Maedchen Production Committee
©MMM/Maerchen Maedchen Project