The latest spin-off focuses on the daily life of Killer T Cell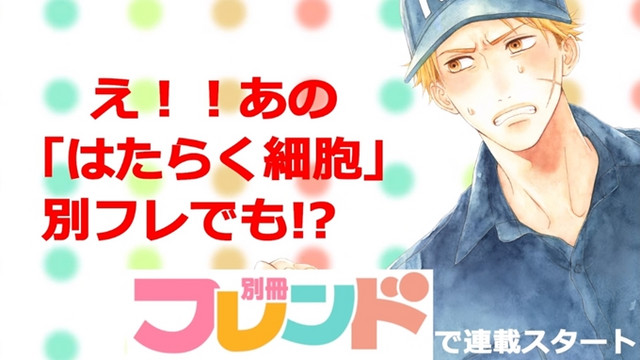 Following Bacteria at Work in Nakoyoshi, Cells that Don't Work in Monthly Shonen Sirius, and Cells
at Work! BLACK in Morning, Cells at Work! Friend, a new spin-off of Akane Shimizu's comedy manga
Cells at Work!, started serialization in Kodansha's monthly shoujo manga magazine Bessatsu Friend
in its February 2019 issue released on January 12.
別冊フレンド2月号(1月12日発売)にて、待望の新スピンオフ『はたらく細胞フレンド』<原作:黒野カンナ 漫画:和泉みお>連載開始!! 素直になれないキラーT細胞が主人公のコメディです! お楽しみに!https://t.co/nC5Dg4kkiv pic.twitter.com/U9a4XkADzG

— 『はたらく細胞』公式 (@hataraku_saibou) 2019年1月10日
The fourth spin-off focuses on the daily life of Killer T Cell and his struggle to make friends, because
he has been considered as very serious tough guy among other cells. Under the supervision of the
original manga author, Kanna Kurono (Heian-kei Jyoshi! Murasaki-san!) provides stories, while Mio
Izumi (Okyuryo wa Kareshi desu) serves as illustrator.
Kodansha's official YouTube channel has posted a five-minute preview video for the manga's first chapter.
【お知らせ】大人気細胞擬人化ファンタジー『はたらく細胞』のスピンオフが別冊フレンド2月号から連載スタートします。このツイートでは『はたらく細胞フレンド』告知ムービーを先行公開☆ 泣く子も黙る"体内の殺し屋"キラーT細胞はキャラ変したい! ともだちがほしい!! オフになったらあそびたい!!! pic.twitter.com/l3eyGfkDpW

— 別冊フレンド編集部 (@betsufure) 2019年1月10日
【別フレ2月号(1/12発売)】表紙は大人気連載 #黒崎くんの言いなりになんてならない ♪ 超大人気コミック #はたらく細胞 のスピンオフなど、新連載が続々スタートします☆  バレンタインの胸キュンは #別フレ におまかせ♡ https://t.co/q7jgTMQbWf #黒崎くん #0キス #メンズライフ #カモナ pic.twitter.com/ednkwssbdi

— 別冊フレンド編集部 (@betsufure) 2019年1月11日
---
Source: Kodansha official YouTube channel
©Akane Shimizu/Kodansha