The comedy manga's English edition is available on Crunchyroll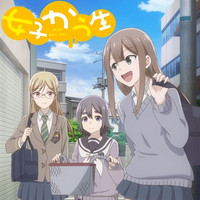 It is officially announced today that a TV anime adaptation of Ken Wakai's dialogueless manga Joshi Kausei is set to premiere in Japan in April 2019. Its official website and Twitter open with a key visual, announcing its main staff and three main voice voice cast. Its story follows three high school girls' cute and happy daily life without their dialogues.
Noriyoshi Sasaki, who recently directed Holmes of Kyoto, is served as director/series composition writer at EAST FISH STUDIO, alongside character designer Kyohei Yamamoto (Anima Yell! episode animation director).
Key visual
◎女子かう生がアニメ化◎
「WEBコミックアクション」にて好評連載中の、若井ケンによるサイレント女子高生漫画『女子かう生』。2019年4月にテレビアニメ放送決定!https://t.co/kWk8CNUxH8#女子かう pic.twitter.com/JsDUb2N1LO

— TVアニメ『女子かう生』公式 (@joshikau_anime) 2019年1月22日
The original manga has been serialized on Futabasha's Web Comic Action since September 2013, and so
far eight tankobon volumes are released in Japan. Its English edition has been simulpublished on Crunchyroll
up to the latest 82nd chapter. The series is introduced as below:
Who needs dialog when you're this cute? The beautiful (but unlucky) Momoko, the cool, collected Shibumi,
and the refreshingly innocent Mayumi star in a "silent manga." No speeches, no dialog! Just pictures, sound
effects, and three high school girls living their daily lives.
Momoko Futo: Rika Tachibana (Namino Murakami in Between the Sky and Sea)
◎もも子キャスト発表◎
元気ハツラツでちょっと天然なおバかわいい女子高校生「富戸もも子」を演じるのは立花理香さん(@RiccaTachibana)に決定!https://t.co/LspXiTQFpC#女子かう pic.twitter.com/dBJHpTKhYm

— TVアニメ『女子かう生』公式 (@joshikau_anime) 2019年1月22日
Shibumi Shibusawa: Tomomi Mineuchi (Eiko Tokura in Slow Start)
◎しぶ美キャスト発表◎
渋めでメガネが似合う、クール系女子高校生「渋沢しぶ美」を演じるのは嶺内ともみさんに決定!https://t.co/LspXiTQFpC#女子かう pic.twitter.com/uU69UZ5cTq

— TVアニメ『女子かう生』公式 (@joshikau_anime) 2019年1月22日
Mayumi Koi: Yurika Kubo (Hanayo Koizumi in Love Live!)
◎まゆみキャスト発表◎
コロンとした眉と柔らかほっぺが可愛い女子高校生「古井まゆみ」を演じるのは久保ユリカさん(@INFO_shikaco)に決定!https://t.co/LspXiTQFpC#女子かう pic.twitter.com/Tmzx3x4gbI

— TVアニメ『女子かう生』公式 (@joshikau_anime) 2019年1月22日
Manga author celebrates the news with a newly-drawn illustration on Twitter
◎若井ケン先生より◎
原作:若井ケン先生(@wakaiken)より、TVアニメ化お祝いイラストをいただきました!
お祝いコメントは公式サイトに掲載中です♪https://t.co/fCIP2sazZm#女子かう pic.twitter.com/toXjhfhre0

— TVアニメ『女子かう生』公式 (@joshikau_anime) 2019年1月22日
Manga 1st and 8th volume covers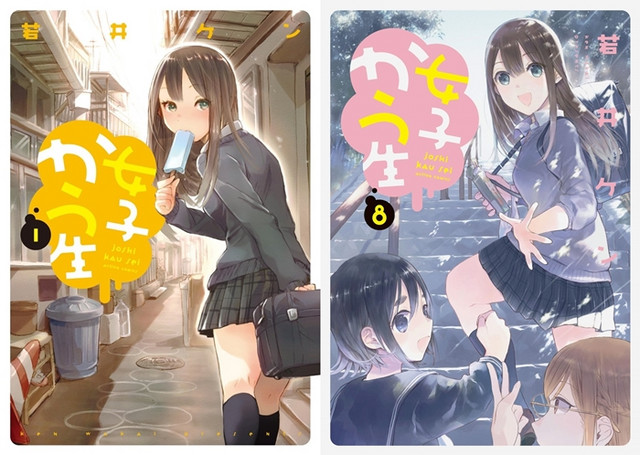 ---
Source: "Joshi Kausei" TV anime official website / Twitter
© Ken Wakai,FUTABASHA/"Joshi Kausei" Production Committee
© Ken Wakai/FUTABASHA