SENRAN KAGURA Burst Re:Newal is now available on PlayStation®4 and Windows PC via Steam!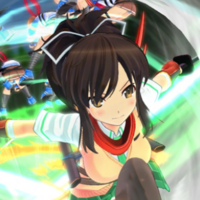 Note: This article and its contents are sponsored by our friends at XSEED Games - to keep up with their latest news and announcements, make sure to follow them on their Facebook, Twitter, and YouTube!!
SENRAN KAGURA Burst Re:Newal brings the original Nintendo 3DS™ release's classic 2.5D action to modern hardware, with a full 3D remake and a fresh retelling of the original story that began the worldwide phenomenon!
This fast-paced brawler provides updated combat mechanics and fresh, sharper character models, as well as the new Burst mode for a voluptuous visual feast! For players who like to customize their favorite girls' looks and styles, the game also includes a wealth of new outfits and options. With DLC episodes that reveal new details of Yumi and Miyabi's histories prior to meeting Asuka and Homura, SENRAN KAGURA Burst Re:Newal delivers an authentic recreation of the original game while ensuring that series fans will have plenty of new content to look forward to!

The game is available as limited editions on PS4™ system, including the 'Tailor-Made' edition (physical and digital), bursting with fan-focused content, and the 'At the Seams' edition (physical), which adds six "Busty Besties" character straps on display stands to all items in the 'Tailor Made' edition. The 'Tailor-Made' edition is also available digitally on Steam. This title is rated M for Mature by the ESRB for both PS4™ and Steam versions.
To celebrate this launch, XSEED Games has generously shared three copies of the 'At the Seams' edition for the Playstation 4™ with the Crunchyroll team, and we're looking for three lucky people (age 17+!!!) to give them away to!! Enter our sweepstakes below for your chance to win - it only takes a moment to enter your information, and there's multiple ways to enter if you want to increase your odds ~
SENRAN KAGURA Burst Re:Newal Sweepstakes
You have until February 11th at 5:00pm Pacific to enter! Good luck, and thanks for participating - please visit the official product website for more information about the game!