Makoto Shinkai: "He is my favorite director, I am so happy! "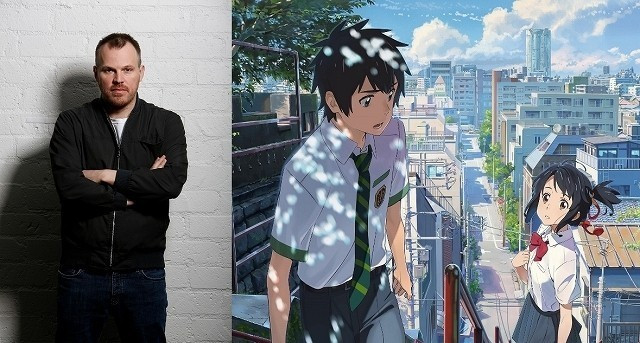 It is officially confirmed today that 44-year-old American director Marc Webb (500 Days of Summer,
The Amazing Spider-Man) is set to direct the forthcoming live-action remake of Makoto Shinkai's mega
hit anime film in 2016, Kimi no Na wa./Your Name. Its release date has not yet been announced.
According to Genki Kawamura, the original anime film's producer who also serves as one of the producers
for the remake, Webb was their first candidate. Kawamura says, "We are confident that director Marc
Webb, who is an expert of love stories such as his 500 days of Summer, will bring this film to higher
level with a new approach."
The original anime director Shinkai also posted his comment about the American director on his
official account:
"It is announced that the director of the Hollywood edition of Your Name. is Marc Webb. He is my
favorite director, I am so happy! We will do our best on our new film not to be defeated by it. I secretly
put a homage to Marc Webb's 500 Days of Summer into Weathering With You (laugh), please look
forward to it if you are a fan of his films."
ハリウッド版『君の名は。』、監督がマーク・ウェブと発表になりました。大好きな監督です、うれしい! 僕たちの新作も負けないようにがんばります。『天気の子』にはマーク・ウェブの『(500)日のサマー』オマージュもこっそり紛れてたりしますので笑、彼のファンの方はそんなところもお楽しみに。 https://t.co/7B8jUiRoLG

— 新海誠 (@shinkaimakoto) 2019年2月15日
The live-action remake project based on the second highest-grossing Japanese film ever was revealed
in September of last year. Paramount Pictures and Bad Robot have joined to produce the adaptation.
J.J. Abrams (Star Wars: The Force Awakens) serves as producer, Eric Heisserer (Arrival) is attached to
write a screenplay.
The story of the remake follow a Native American girl living in a rural area and a boy from Chicago. As
with the original, they are magically swapping their bodies, and when they predict an approaching disaster,
they decide to meet each other to save their lives.
ハリウッド版実写「君の名は。」監督は「(500)日のサマー」マーク・ウェブに決定! #君の名は。 新海誠 川村元気 500日のサマー マークウェブ JJエイブラムス https://t.co/QvFREH33lq

— 映画.com (@eigacom) 2019年2月15日
---
Source: Eiga.com, Makoto Shinkai Twitter
©2016 "Your Name." Production Committee