Kanon Takao and Nobuhiko Okamoto are set to voice the two leads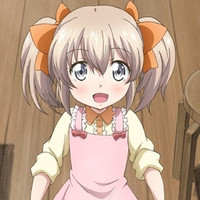 As Japanese hobby magazine and publishing company Hobby Japan's 50th anniversary project, a TV anime adaptation of CHIROLU's fantasy light novel Uchi no Ko no Tamenaraba, Ore wa Moshikashitara Maou mo Taoseru kamoshirenai. (its official English title on the Japanese edition covers: For My Daughter, I Might Defeat Even The Archenemy. ) is confirmed to be in the works. No staff names and broadcast schedule are currently announced.
The novel was first posted on the Japanese user-generated novel publishing website Shousetsuka ni Narou in August 2014, then its print edition started publishing from Hobby Japan's HJ Novels imprint from February 2015. Its latest eighth volume is set to be released in Japan on February 22, 2019. And its manga adaptation illustrated by Hota. has been serialized in KADOKAWA's Comic Walker website and has released four tankobon volumes.
The novel's English edition has been published by J-Novel Club with the English title If It's For My Daughter,
I'd Even Defeat a Demon Lord. The company introduces its synopsis as below:
Dale is a cool, composed, and highly skilled adventurer who's made quite a name for himself despite
his youth. One day on a job deep in the forest, he comes across a little devil girl who's almost wasted
away. Unable to just leave her there to die, Dale takes her home and becomes her adoptive father.
Devil or not, Latina is beyond adorable, and the adventurer soon finds himself head over heels with
being a parent. But why was she out in the forest to begin with, and why does she carry the mark of
a criminal?
The anime's official Twitter has posted a key visual
『うちの娘の為ならば、俺はもしかしたら魔王も倒せるかもしれない。』( HJ ノベルス/ホビージャパン刊)が、ホビージャパン50周年記念アニメ化作品としてTVアニメ化決定!
キービジュアル公開&公式サイトオープンしました!https://t.co/xluCPzqdGz#うちの娘 pic.twitter.com/SOw4haxjD4

— TVアニメ『うちの娘の為ならば、俺はもしかしたら魔王も倒せるかもしれない。』 (@uchinoko_anime) 2019年2月20日
Two main voice cast are announced:
Latina: Kanon Takao (Linnea in The Master of Ragnarok & Blesser of Einherjar)
【キャスト決定】
可愛すぎる「うちの娘」ラティナ役を高尾奏音さん(@Kanon_Takao)が演じることが決定!
キャスト発表にあたりコメントも頂いております、ぜひ公式サイトもご覧ください!https://t.co/YxX63O39Y2#うちの娘 pic.twitter.com/KQbqEMSUaR

— TVアニメ『うちの娘の為ならば、俺はもしかしたら魔王も倒せるかもしれない。』 (@uchinoko_anime) 2019年2月20日
Dale: Nobuhiko Okamoto (Kastuki Bakugo in My Hero Academia)
【キャスト決定】
ラティナにデレデレの凄腕冒険者・デイル役を岡本信彦さんが演じます!
キャスト発表にあたりコメントも頂いております、ぜひ公式サイトもご覧ください!https://t.co/YxX63O39Y2#うちの娘 pic.twitter.com/uHPunVmeph

— TVアニメ『うちの娘の為ならば、俺はもしかしたら魔王も倒せるかもしれない。』 (@uchinoko_anime) 2019年2月20日
The novel's current illustrator Kei posted an illustration of Latina to celebrate the news
【アニメ化記念】
原作:CHIROLU先生からアニメ化記念コメント、景先生からはお祝いイラストをいただきました!アニメーションでもラティナに会える日が楽しみですね♪https://t.co/pR8miBwoYV#うちの娘 pic.twitter.com/N1UQJxxpBx

— TVアニメ『うちの娘の為ならば、俺はもしかしたら魔王も倒せるかもしれない。』 (@uchinoko_anime) 2019年2月20日
Novel 1st and 8th volume covers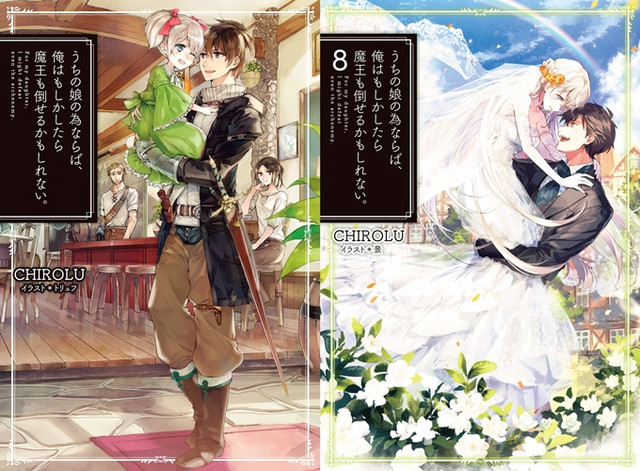 Manga tankobon 1st and 4th volume covers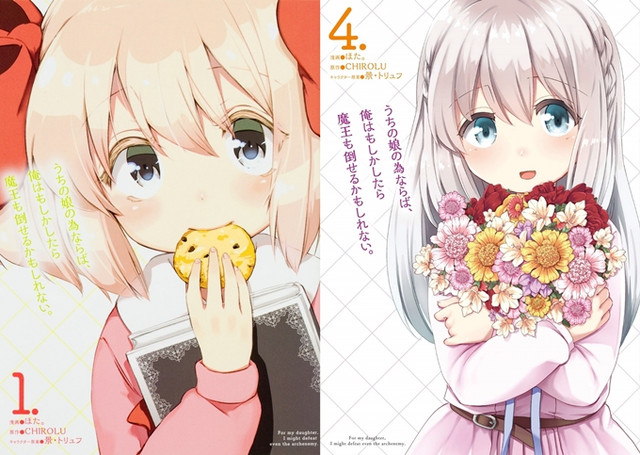 ---
Source: TV anime "For My Daughter, I Might Defeat Even The Archenemy." official website / Twitter
© CHIROLU, Hobby Japan/Shirokane no Yousei-hime wo Mimamorukai