A-1 Pictures-produced romantic comedy is now streamed on Crunchyroll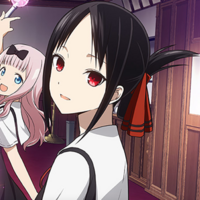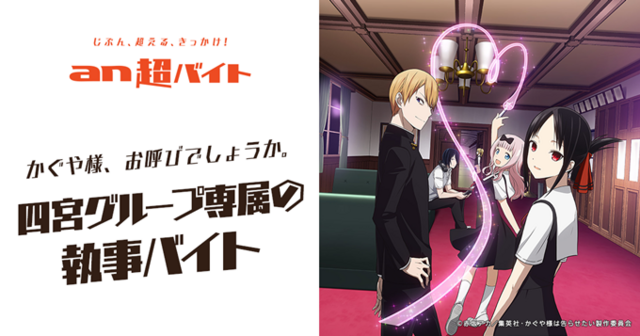 Japanese part-time/casual job information site an is now inviting one person who can serve as a part-
time butler for Kaguya Shinomiya, the main heroine in the KAGUYA-SAMA: LOVE IS WAR TV anime,
at a promotional event for the anime to be held in Tokyo next month.
According to the job description, as an exclusive butler for the Shinomiya Group, the chosen one will
carry various tasks to take care of Kaguya (probably the character's anime VA Aoi Koga) at the event,
such as bringing tea and papers to her.
The pay for the one-day job includes 200,000 yen cash (about 1,800 US dollars), the anime's merchandise,
and a gold bar that you can use for the payment at any Shinomiya Group companies. Anyone is welcome
to apply regardless of gender, age, and experience. All transportation expenses from anywhere in Japan
will be paid.
Applications will be accepted between February 23 and March 4 by following the three steps:
1. Follow an's official Twitter account: @weban
2. Retweet the tweet about this job below.
3. Fill the application form.
\日給20万円+金の延べ棒/
an× #かぐや様 特別企画!
四宮グループに仕える専属の #執事バイト を募集!
応募は3月4日迄!バイトしようぜ!

✔日給20万
✔交通費全額
✔金の延べ棒
✔アニメ特別グッズ

【応募方法】
①@webanフォロー
②この投稿をRT
③応募フォーム入力▷https://t.co/L9fDO4cMQ6 pic.twitter.com/umZa1lR1Bk

— バイトデビューは「an」があんじゃん! (@weban) 2019年2月23日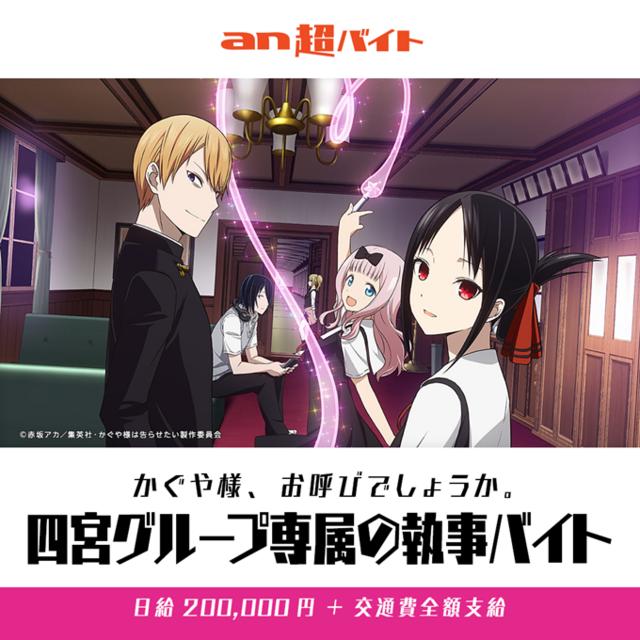 ---
The TV anime adaptation of Aka Akasaka's love comedy manga Kaguya-sama wa Kokurasetai: Tensai-tachi
no Ren'ai Zunousen/Kaguya-sama: Love is War premiered in Japan on January 12, 2019, and has been
simulcast on Crunchyroll to its members in North America, Central America, South America, Australia,
New Zealand, United Kingdom and Ireland.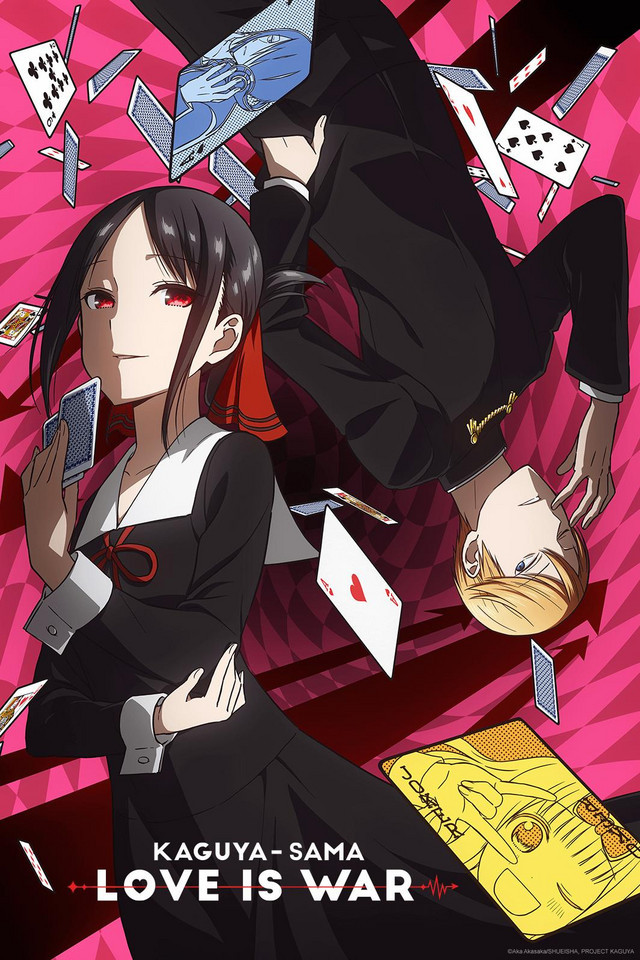 ---
Source: Persol Career press rlease
©Aka Akasaka/SHUEISHA, PROJECT KAGUYA