TV anime third season is also in the works for 2020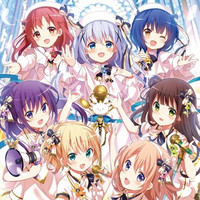 It is officially announced in the latest May 2019 issue of Houbunsha's Manga Time Kirarra MAX released today in Japan that Is The Order a Rabbit?? ~Sing For You~, a new OVA from the anime franchise based on Koi's slice-of-life four-panel manga is set to be released in the fall of 2019. See the OVA's key visual newly drawn by the manga author below.
今年発売の新作OVAのタイトルが『ご注文はうさぎですか?? ~Sing For You~』に決定しました!2019年秋発売予定☆原作Koi先生描き下ろしのキービジュアルがこちらです!続報をどうぞお楽しみに♪ https://t.co/TwqC645676#gochiusa pic.twitter.com/OqyxhAjdfD

— TVアニメ『ご注文はうさぎですか??』 (@usagi_anime) 2019年3月18日
The TV anime first season was aired for 12 episodes from April to June 2014, then the second season
with another 12 episodes followed from October to December 2015. The anime franchise's first OVA
Is the Order a Rabbit?? ~Dear My Sister~ got its theatrical screenings first in November 2017, then
its DVD/Blu-ray was released in May 2018.
Production of the new OVA and the third season of the TV anime was announced back in September
2018. Following the OVA, the TV anime third season is set to premiere sometime in 2020.
【速報】

「ご注文はうさぎですか??」2019年新作OVA 発売決定!

2020年 TVシリーズ3期 制作決定!!https://t.co/z2T97ONRd8

 #gochiusa pic.twitter.com/rKqYURYqN4

— TVアニメ『ご注文はうさぎですか??』 (@usagi_anime) 2018年9月16日
Announcement PV for the OVA and TV anime third season posted in September 2018.
---
Source: "Is The Orders Rabbit?" anime franchise officila website / Twitter
©Koi, Houbunsha/Is The order a Production Committee??