Lerche has worked on its TV anime adaptation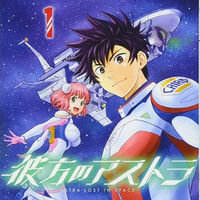 The official website for the annual Japanese manga award Manga Taisho (Cartoon Grand Prize) announced today that Kenta Shinohara (SKET DANCE)'s sci-fi survival manga Kanata no Astra/Astra Lost in Space won the Grand Prize for 2019. The award was established in 2008 with the concept "The most recommended manga to my friend now."
This year, 94 selection committee members cast votes for the manga titles published between January 1 and December 31 and had eight volumes at most, and 13 nominees were selected. Then the members cast again for their top three titles from the nominees. The title gets the most point is chosen as this year's Grand Prize winner. Kanata no Astra is the first web manga that won the title in the award's 11-year history.
The 13 manga nominated for 2019 with their vote results:
1. "Kanata no Astra" (Kenta Shinohara) - 94 points
2. "Mystery to Iu Nakare" (Yumi Tamura) - 78 points
3. "Blue Period" (Tsubasa Yamaguchi) - 74 points
4. "Ikoku Nikki" (Tomoko Yamashita) - 45 points
5. "Southern to Suisei no Shojo" (Yuriko Akase) - 41 points
6. "Hokuhokusei ni Kumo to Yuke" (Aki Irie) - 40 points
7. "Kongouji-san wa Mendoukusai" (Minoru Toyoda) - 39 points
8. "Metamorphose no Engawa" (Kaori Tsuruya) - 38 points
9. "Hakumei to Mikochi" (Takuto Kashiki) - 33 points
10. "Nagi no Oitoma" (Maisato Konari) - 25 points
11. "Dungeon Meshi" (Ryoko Kui) - 23 points
12. "Golden Gold" (Shota Horio) - 22 points
13. "1122" (Peko Watanabe) - 19 points
Kenta Shinohara thanks the award with a newly-drawn illustration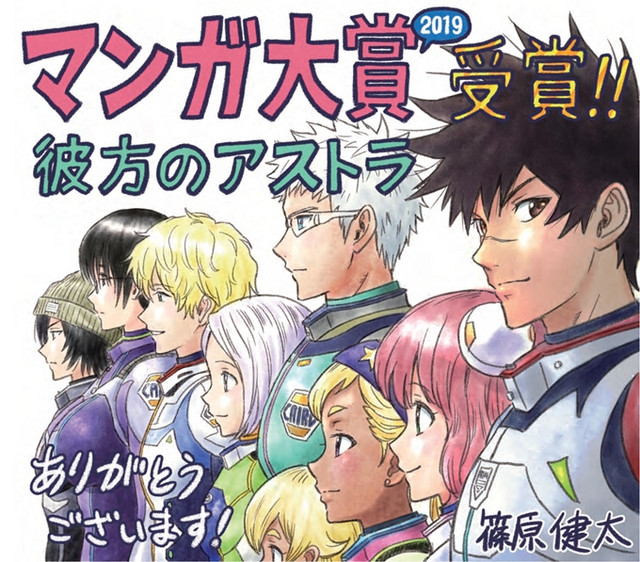 ---
Kanata no Astra was serialized in Shueisha's web comic site Jump+ from May 2016 to December 2017,
then compiled in five tankobon volumes. As reported, its TV anime adaptation is in the works by Lerche
(Assassination Classroom). Masaomi Ando (Scum's Wish, Hakumei and Mikochi) serves as director,
alongside series composition writer Norimitsu Kaihou (SCHOOL-LIVE!) and anime character designer
Keiko kurosawa (Konohana Kitan, Asobi Asobase).
Synopsis:
It's the year 2063, and interstellar space travel has become the norm. Eight students from Caird High
School and one child set out on a routine planet camp excursion. While there, the students are mysteriously
transported 5,000 light-years away to the middle of nowhere! Will they ever make it back home?!
Manga tankobon 1st and 5th volume covers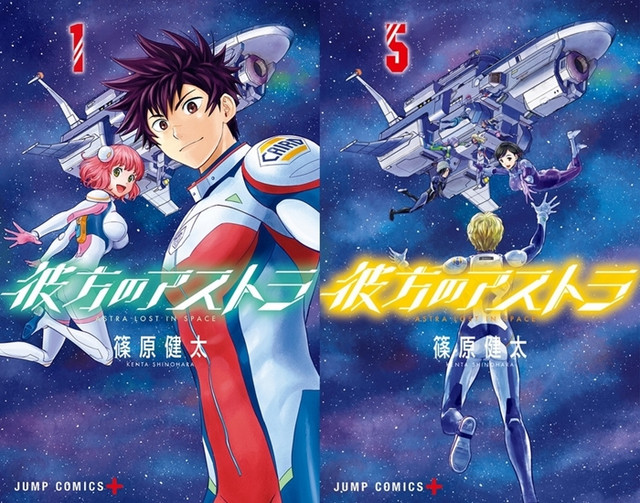 ---
Source: "Manga Taisho 2019" official website
© Kenta Shinohara/Shueisha, Astra Lost in Space Production Committee