Crunchyroll and XSEED Games are teaming up to bring you an awesome GIVEAWAY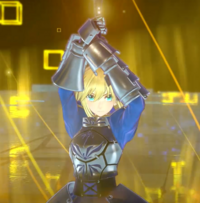 Our friends at XSEED Games have given us 3 copies of Fate/EXTELLA: Fleeting Glory Edition to celebrate the release of their new expansion FATE/EXTELLA LINK! either PlayStation®4 or Nintendo Switch version!
Interested? Here's what you need to do to win! (no purchase necessary to win!) Check out the gleam below and follow instructions carefully, there are three ways to enter!
Keep reading below for more info about the game!
Best of luck, everyone!!!
Fate/EXTELLA: Fleeting Glory Edition Sweepstakes
Fate/EXTELLA LINK is now available on PlayStation®4, Nintendo Switch™, PlayStation®Vita, and Windows PC via Steam!
In addition to the 16 original Servants from Fate/EXTELLA: The Umbral Star, characters from other Fate series will enter battle as playable Servants, including Astolfo, Scáthach, and Francis Drake! The high-speed action gameplay has been refined, and players will battle their way through massive invading armies to wrest back control of SE.RA.PH. from an invading force.
Players on the PlayStation®4, Nintendo Switch™, and Steam can now engage in massive 4-on-4 online battles with up to 7 other players, so choose your favorite Servant and make your foes quiver at the true name of their Noble Phantasm!
The premium retail "Fleeting Glory Edition," is available now at select retailers for Nintendo Switch and PS4™ system, includes the following content: a soundtrack CD, a pack of 10 collectible 3" by 5" cards depicting each of the new Servants, a 17" by 24" cloth poster, a 3" by 4.5" acrylic diorama featuring the Servants Nero, Drake, and Scáthach, and a DLC code for exclusive costumes for Scáthach and Nameless, all housed in a custom box.
**To celebrate its launch, XSEED Games have provided Crunchyroll with 3 copies of the Fleeting Glory Edition for either PlayStation®4 or Nintendo Switch version!
Please visit the official product website for more information about the game!