The film will be distributed by Toho in Japan on July 19, 2019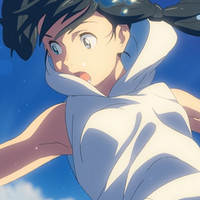 An official Twitter for Makoto Shinkai (5 Centimeters per Second, Your Name.)'s forthcoming new anime feature film Tenki no Ko/Weathering With You opens today, posting three scene visuals from the highly-anticipated fantasy film.
Shinkai's seventh feature film is scheduled to be released in Japan on July 19, 2019, distributed by Toho. As with his previous films, he also writes its screenplay by himself. Masayoshi Tanaka, who worked with Shinkai for his previous film Kimi no Na wa./Your Name. again serves as character designer, alongside animation director Atsushi Tamura (Mobile Suit Gundam The Origin) and art director Hiroshi Takiguchi (Ajin, BLAME!). CoMix Wave Films (Your Name., Flavors of youth) works on anime production.
Hodaka Morishima is voiced by 18-year-old actor Kotaro Daigo (Sakamichi Onoda in the Yowamushi
Pedal stage plays). A high school student runs away from his home on an isolated island and gets a
living-in position at a small production company for magazines in Tokyo.
【☔️初解禁カット①☀️】#醍醐虎汰朗 さんが声を務める帆高。
離島から家出したきた高校生は、東京の小さな編集プロダクションに住み込みで働くことになります。#天気の子 #新海誠 pic.twitter.com/j3qMemuwMt

— 映画『天気の子』 (@tenkinoko_movie) 2019年3月30日
Hina Amano is voiced by 17-year-old actress Nana Mori (Yoriko Kosaka in live-action film Tokyo Ghoul 2).
The girl whom Hodaka meets has a strange power. She can clear the sky by her prayer.
【☔️初解禁カット②☀️】#森七菜 さんが声を務める陽菜。
帆高が出会う女の子には、不思議な力があった。"祈る"ことで空を晴れにできる…#天気の子 #新海誠 pic.twitter.com/rz2323EjDV

— 映画『天気の子』 (@tenkinoko_movie) 2019年3月30日
The rain has been falling day after day. "Look, it's going to be fine from now." The blue sky can be seen
barely through a rift in the clouds. The street of Tokyo starts shining by the rays of the sun.
【☔️初解禁カット③☀️】
連日振り続ける雨。

「ねぇ、今から晴れるよ」

雨雲の切れ間に、わずかにのぞく青空。

太陽の日差しで、美しく光り出す東京の街並み。#天気の子 #新海誠 #醍醐虎汰朗 #森七菜 pic.twitter.com/TgytezcGV1

— 映画『天気の子』 (@tenkinoko_movie) 2019年3月30日
Teaser poster visual with a tagline: "This is -- a story about the secret of the world that only I and her know."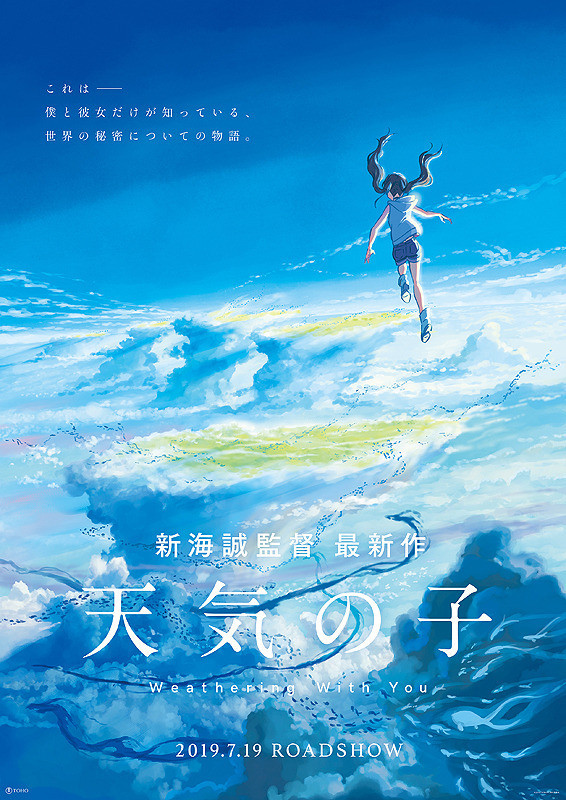 ---
Source: "Tenki no Ko/Weathering with You" official Twitter
(C)2019 "Tenki no Ko" Production Committee