His autograph session is planned to be held on July 18 and August 1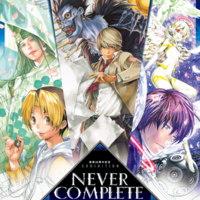 The official website for manga illustrator Takeshi Obata's first art exhibition titled "Artist Activity 20th Anniversary Takeshi Obata Exhibition NEVER COMPLETE" has posted its key visual newly drawn by the artist ans revealed more details about its contents.
Key visual
\描きおろしKV降臨!!/#小畑健展 待望のキービジュアルを公開しました!!
展覧会の正式名称は「画業30周年記念 小畑健展 NEVER COMPLETE」。まだ見ぬ「究極の一枚」を目指す姿から、小畑先生の"今"そして"未来"を体感してください。https://t.co/8aLaW4Q8uX pic.twitter.com/dYfraMBL6G

— 小畑健展 NEVER COMPLETE (@obata_ten) 2019年4月4日
The exhibition featuring 500 original manga drawings and materials will be first held at 3331 Arts Chiyoda
in Tokyo from July 13 to August 12, 2019, then at Nigata Anime Manga Museum in Nigata from September
14 to November 10, 2019, and at Daimaru Museum in Osaka in the early spring of 2020. General sales of
the ticket for the Tokyo exhibition will begin on April 13.
At the Tokyo venue, his autograph session for 200 purchasers of the pictorial record of the exhibition is
planned to be held on July 18 and August 1.
The exhibition will consist of three sections:
"Manga" - original drawings from "Hikaru no Go," "Death Note," "Bakuman.," and others.
"Illustrations" - cover illustrations for the magazines and tankobons, collaboration illustrations with other manga series.
"Never Complete" - a section focuses on his latest work "Platinum End"
Teaser visual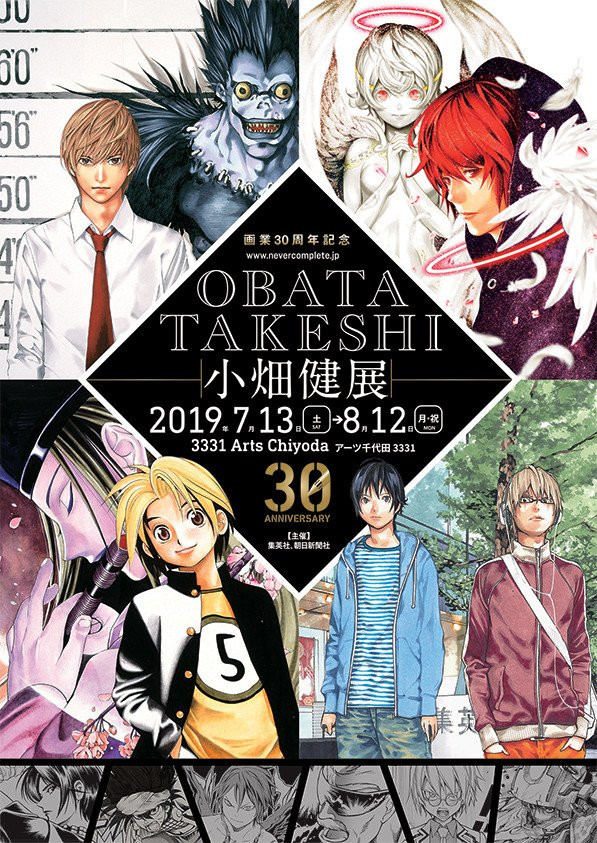 祝!「小畑健展」公式Twitter開設!! 新着情報を随時お届けします!#小畑健展 #ヒカルの碁 #デスノート #バクマン。 #プラチナエンド

東京会場は2019年7月13日(土)~8月12日(月・祝)に開催。会場は「アーツ千代田 3331」です。https://t.co/8aLaW4Q8uX

— 小畑健展 NEVER COMPLETE (@obata_ten) 2019年3月4日
After winning an associate prize in the 30th Tezuka Award for his one shot story 500 Kounen no Shinwa
(The myth of 500 light years) in 1985 when he was 17 and working as an assistant to Ryuji Tsugihara
(Yoroshiku Mechadoc) and Makoto Niwano (The Momotaroh), he made his debut in Weekly Shonen Jump
with his first serialization work Cyborg Jii-chan G in 1989.
His first hit series was Hikaru no Go (1998-2003/story by Yumi Hotta), and he has been known for his
internationally popular collaboration works with Tsugumi Ohba, such as Death Note (2003-2006), Bakuman.
(2008-2012), and the ongoing Platinum End (2015-).
---
Source: "Artist Activity 20th Anniversary Takeshi Obata Exhibition NEVER COMPLETE" official website / Twitter
(c)Takeshi Obata/Shueisha
(c)Susumu Sendo, Takeshi Obata/Shueisha
(c)Sharakumaro, Takeshi Obata/Shueisha
(c)Yumi Hotta, Takshi Obata/Shueisha
(c)Tsugumi Ohba, Takeshi Obata/Shueisha
(c)Tsuneo Takano, Takeshi Obata/Shueisha
(c)Hiroshi Sakurazaka, Ryosuke Takeuchi, Yoshitoshi ABe, Takeshi Obata/Shueisha
(c)Nobuaki Enoki, Takeshi Obata/Shueisha