Highly-anticipated new season's story begins in Japan tonight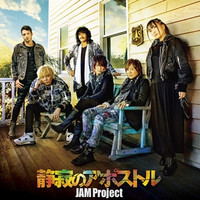 Lantis' official YouTube channel has posted a 80-second music video for anison unit JAM Project's 70th single song "Seijaku no Apostle" (English title: Uncrowned Greatest Hero) to be released on April 24, 2019. It is used as the OP theme for the highly anticipated second season of the TV anime One-Punch Man.
The song is written by veteran lyricist Yukonojyou Mori, and co-composed by the group's leader Hironobu Kageyama and semi-regular member Ricardo Cruz, who also appears in the CD jacket photo and MV. In addition, French rapper OrelSan, who voices the protagonist Saitama in the anime's French dub, joined the song's collaboration edition, which will be used in France and French-speaking territories.
"Seijaku no Apostle" short MV
フランス語吹替版でサイタマ役を務めたOrelSanが「ワンパンマン」第2期オープニング主題歌「静寂のアポストル」でJAM Projectとコラボ!JAMの楽曲にOrelSanがラップで参加!フランス及びフランス語圏ではコラボレーション楽曲が配信放送されます。詳しくは→ https://t.co/114XtYeNGI #onepunchman pic.twitter.com/KE64hbnUus

— TVアニメ「ワンパンマン」公式 (@opm_anime) 2019年4月8日
JAM Project and OrelSan made collaboration for TV Anime "One-Punch Man" 2nd season opening theme song "静寂のアポストル (English Title: Uncrowned Greatest Hero)"!... https://t.co/3qZCC9jcvu

— Lantis Global News (@lantis15th) 2019年4月8日
30-second CM feauring the OP song
4/24(水)発売TVアニメ『ワンパンマン』第2期オープニング主題歌JAM Project「静寂のアポストル」のCMとアーティスト盤ジャケットが解禁!かっこいいです! #onepunchman
CM 30秒→ https://t.co/IPuYoEs6JM pic.twitter.com/ZXuliPwWct

— TVアニメ「ワンパンマン」公式 (@opm_anime) 2019年3月26日
---
Following the 30-minute digest of the TV anime first season aired in Japan on April 2, the second
season's first episode (13th in total) "Hero no Kikan" (The Return of The Hero) will be aired on TV
Tokyo, TV Osaka, and TV Aichi at 25:35 on April 9 (JST).
Trailer
---
English-subtitled version PV
Second season main staff:
Based on Original Work by: ONE, Yusuke Murata
Director: Chikara Sakurai
Script: Tomohiro Suzuki
Character Design: Chikashi Kubota
Sound Director: Yoshikazu Iwanami
Music: Makoto Miyazaki
Opening Theme: JAM Project
Ending Theme: Makoto Furukawa
Animation Production: J.C.STAFF
Main voice cast:
Saitama: Makoto Furukawa
Genos: Kaito Ishikawa
Speed-o'-Sound Sonic: Yuki Kaji
Terrible Tornado: Aoi Yuki
Silverfang: Kazuhiro Yamaji
Atomic Samurai: Kenjiro Tsuda
Child Emperor: Minami Takayama
Metal Knight: Tessyo Genda
King: Hiroki Yasumoto
Zombieman: Takahiro Sakurai
Drive Knight: Yoji Ueda
Pig God: Daisuke Namikawa
Superalloy Blackluster: Satoshi Hino
Watchdog Man: Yuji Ueda
Flashy Flash: Kohsuke Toriumi
Tank-top Master: Katsuyuki Konishi
Metal Bat: Wataru Hatano
Puri-puri Prisoner: Masaya Onosaka
Handsome Kamen Amai Mask: Mamoru Miyano
Hellish Blizzard: Saori Hayami
Mumen Rider: Yuichi Nakamura
Garou: Hikaru Midorikawa
---
Source: TV anime "One-Punch Man" official website / Twitter, Lantis official YouTube channel
(C) ONE, Yusuke Murata/Shueisha, Hero Association Headquarters