His funeral was already conducted by his relatives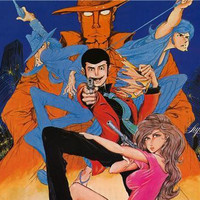 Following the current Lupin VA Kanichi Kurita introduced yesterday, other voice cast from the Lupin the Third anime series have released their condolence messages on passing of the manga creator Monkey Punch.
Kiyoshi Kobayashi (Daisuke Jigen/1971-present)
"Monkey Punch, Kazuhiko Kato-san. You were the parents who raised me, 'Actor Kiyoshi Kobayashi,' and also my war buddies. Speaking of war buddies, there are people I cannot forget: Yasuo Yamada, Goro Naya, Eiko Masuyama, and Makio Inoue. All of them were my buddies who had lived in the Lupin The Third world created by Kazuhiko Kato. Let me play in this fascinating Lupin world with my current buddies, including Kanichi Kurita, and the people who are involved
in Lupin The Third, for a little more while, please. I am really thankful to you. May you rest in peace."
Makio Inoue (Goemon Ishikawa/1977-2010)
"The death of the leading figure in the manga/anime world gives me a feeling of 'The giant star is lost.'"
Daisuke Namikawa (Goemon Ishikawa/2011-present)
"When I was almost crushed by pressure, 'It was good.' When I was fighting against anxiety, wondering
if it was good, 'It was wonderful.' When I became nervous because I went too far at an event, 'It is so
fun that I want to keep watching.' Sensei always solved anything with one word. He loved and was curious
about new things. By just being around, he was able to create lovely and healing atmosphere, making
everyone smile so naturally. I want to talk to him again, like we did in Hamanaka-cho. For now, I will keep
doing my best to colorize the world he created most beautifully. I am so appreccite it. I would like to offer
my deepest sympathies."
Eiko Masuyama (Fujiko Mine: 1977-2010)
"For an actor, encounters with works are everything. I am grateful to Monkey Punch-sensei that I was able
to meet Fujiko Mine, which became my treasure."
Miyuki Sawashiro (Fujiko Mine: 2011-present)
"I feel really...really sad that I cannot reply to his forever smile one more time..."
Koichi Yamadera (Koichi Zenigata: 2011-present)
"I am very shocked. When I inherited Inspector Zenigata from Goro Naya-san, I was full of anxiety and
pressure. But I clearly remember that I was impressed by very kind words from Sensei. I also had an
honor to join the events in his home town, Hamanaka-cho, Hokkaido, several times together. He treated
the people in the town and us with a smile all the time, and even willingly agreed to give his autograph for
the charity goods, which I suddenly requested. I think that brushing up my skills as voice actor and playing
the character Inspector Zenigata that he created with all my efforts is my best repaying for his kindness.
Thanks so much. May him rest in peace."
---
Source: Sports Hochi