Analog vinyl edition including "Seikan Hikou" will be also available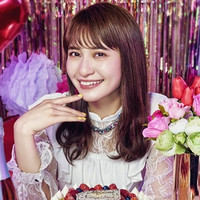 The official website for 29-year-old voice actress/singer Megumi Nakajima has posted a 90-second music video for "Love! For Your Love!," a newly-recorded song from her first best album "30 pieces of love" to be released in Japan on June 5, 2019, her 30th birthday. The anniversary song is produced by Katsutoshi Kitagawa, who previously worked on her fourth single "Melody" (OVA Tamayura ED) in 2010.
Nakajima made her professional voice actress/singer debut as Ranka Lee in Macross Frontier in 2008, and has released 12 singles and four original albums as a solo singer herself. In addition to "Love! For Your Love!," her first best album will include select 29 songs that were released in her 11-year career.
The album will be released in two CD editions: 3,500-yen regular edition and 5,500-yen first press
limited edition with a bonus Blu-ray, as well as 3,000-yen analog vinyl edition "8 pieces of love."
One of her most popular songs, "Seikan Hikou" that she sang for Macross Frontier as Ranka, will be
included only in the eight-song vinyl.
"Love! For Your Love!" short MV
6月5日、#中島愛 30歳の誕生日に30曲入りベストアルバム発売決定しました!新曲も入っています!しかも念願のアナログ盤には「星間飛行」が収録????レコードで聴ける…!????✨

7月21日開催の10周年記念ライブもあわせて是非よろしくお願いします!

曲目など詳細はhttps://t.co/HKb4ddk8Dq #まめぐベスト pic.twitter.com/VaWQpxuh2Y

— 中島 愛 official (@mamegu_staff) 2019年3月25日
Song list:
"Tenshi ni Naritai" (1st single as herself)
"Be MYSELF" "Nostalgia" (2nd single)
"Jellyfish no Kokuhaku" (3rd single)
"Sunshine Girl" "Raspberry Kiss" "Melody" (4th single)
"Natsudori" "Mamisama no Itazura" (5th single)
"TRY UNITE!" (6th single)
"Hello!" (6th single)
"Tsunagaru made"
"Kin'iro ~ Kimi wo Suki ni Natte Yokatta"
"Marble" (7th single)
"Wasurenaiyo" (7th single)
"Transfer" livetune adding Megumi Nakajima
"Ame (Rain) Rasmus Faber feat. Megumi Nakajima
"Sonna Koto Ura No Mata Urabanashi Desho" (8th single)
"Arigatou" (9th single)
"Ai no Jyuryoku"
"Flower in Green"
"Toumei Ningen"
"Watshi no Sekai" (10th single)
"Ai wa meguru"
"Saturday Night Question" (11th single)
"Submarine" "Ai wo Tomoshite"
"Shiranai Kimochi" (12th single)
"Bitter Sweet Harmony" (12th single)
"Love! For Your Love!" (newly-recorded song)
---
Source: Megumi Nakajima official website
Copyright 2019 e-stone music