Fuminori Kizaki (Afro Samurai)-directed film will be released worldwide in 2019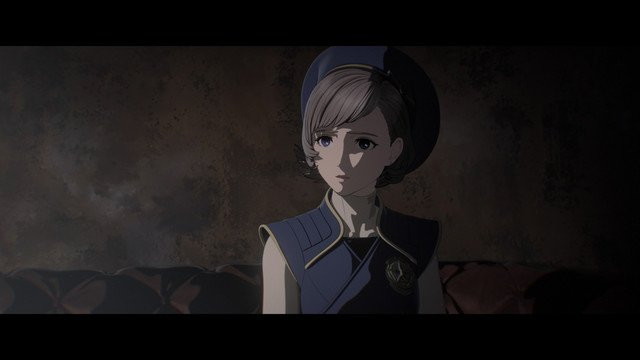 The official website for HUMAN LOST Ningen Shikkaku, the upcoming sci-fi anime feature film inspired by
renowned Japanese novelist Osamu Dazai's 1948 novel Ningen Shikkau (No Longer Human), has posted
a new clip introducing Yoshiko Hiiragi voiced by Kana Hanazawa (Kuroneko in Oreimo, Ichika Nakano in
The Quintessential Quintuplets). As reported, Mamoru Miyano (Light Yagami in Death Note) is already cast
as the film's protagonist Yozo Oba.
According to the character introduction on the site, Yoshiko Hiiragi is a female member of "Hirame," a secret
government institution that is established to fight against "Human Lost." She also serves as a public relation
officer at the health insurance organization "S.H.E.L.L." (as shown in the clip). She believes that a hopeful
future will come under the policy of the organization. She has a mysterious power to detect and contain
the "Human Lost" phenomenon.
FUNimation's official Twitter has posted the clip with English subtitles
"Let us celebrate our healthy society free of illness." -Yoshiko Hiiragi

Human Lost is coming to theaters 2019. pic.twitter.com/KrG4S4EeA8

— Funimation (@FUNimation) 2019年5月10日
異形の怪物"ロスト体"となってしまう"ヒューマンロスト現象"を抑え込む、不思議な力をもつ女性 柊 美子を演じるのは、#花澤香菜 さんに決定!解禁に伴い、コメントも到着いたしました。コメント: https://t.co/uqaAJBT5xa #HUMANLOST pic.twitter.com/fUVF0RYfgx

— 『HUMAN LOST 人間失格』Official (@HUMANLOST_PR) 2019年5月10日
---
The film's story is set in 2036. A breakthrough in medical science has led to the creation of nanomachines,
and the S.H.E.L.L. system that controls them, which ensures humans are free from disease and injury and
extends their lifespan to 120. But this ultimate social system has warped the Japanese nation in a number
of ways, whether it be economical disparities, serious environmental pollution, or the "Human Lost" phenomenon
that malforms people disconnected from the S.H.E.L.L. network.
The film animated by Polygon Pictures (Knights of Sidonia, GODZILLA trilogy) will be released worldwide
in 2019. And its world premiere screening is scheduled to be held at the forthcoming Annecy International
Animated Film Festival in France in June.
"HUMAN LOST Ningen Shikkaku" official teaser trailer
Main staff:
Concept Based on Osamu Dazai's "No Longer Human"
Supervisor: Katsuyuki Motohiro
Director: Fuminori Kizaki
Screenplay: Tow Ubukata
Character Design: Yusuke Kozaki
Concept Artist: Kenichiro Tomiyasu
Animation Production: POLYGON PICTURES
Planning by: MAGNET / SlowCurve
Domestic Distribution: TOHO VISUAL ENTERTAINMENT
---
Source: "HUMAN LOST Ningen Shikkaku" official website / Twitter, FUNimation Twitter
©2019 HUMAN LOST Project