The second chapter of "Girls und Panzer das Finale" hits Japanese theaters June 15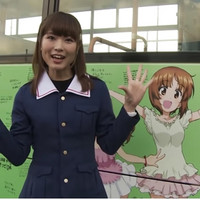 Ibaraki Kotsu Company's fifth wrapping bus decorated with the Girls und Panzer character illustrations
and hand-written messages by the fans was revealed at the Kairaku Festa 2019 event on March 19, 2019.
Its first "Girls und Panzer" wrapping bus started running in November 2012. As with other companies in
the city, Ibaraki Kotsu has supported the anime franchise and one of its regular buses actually appeared
in Girls und Panzer der Film released in November 2015.
BANDAI NAMCO Arts's official YouTube channel has posted a five-minute video report to introduce the
special bus hosted by Mai Fuchigami, the voice of the anime's protagonist character Miho Nishizumi.
Check out the inside and outside of the new "Galpan Bus" in the video below!
海楽フェスタ2019にてお披露目、運行開始となった「ガルパンバス5号車」を、西住みほ役:渕上舞さんがご紹介するお披露目レポート映像が公開!
ファンの皆様からの寄せ書きやキャラクターのパネルなど、見どころをご紹介して頂きました!ぜひご覧ください! #garupanhttps://t.co/d5OAnohjIi

— 「ガールズ&パンツァー」公式アカウント (@garupan) 2019年5月20日
Photos posted on Ibaraki Kotsu's official Twitter
新たに完成したラッピングバス5号車です!
先日募集した、皆さまからのメッセージが載っていますので是非探してみてくださいね!#海楽フェスタ #garupan pic.twitter.com/ZPNfMckN7a

— 茨城交通 (@ibaraki_kotsu) 2019年3月17日
乗車ドアにいばっピステッカー貼り忘れていることに気付きましたので、みほの隣に後日追加します… pic.twitter.com/5cLlz6QEW8

— 茨城交通 (@ibaraki_kotsu) 2019年3月17日
噺家の林家扇兵衛さん、ご参加ありがとうございました!
らくがきバスやってます
茨城交通ブースにて、皆さんのご参加をお待ちしています pic.twitter.com/ZdNsisQgPd

— 茨城交通 (@ibaraki_kotsu) 2019年3月17日
---
Source: BANDAI NAMCO Arts official YouTube channel, Ibaraki Kotsu official Twitter
© GIRLS und PANZER Finale Projekt