The service for iOS/Android is scheduled to begin in early next month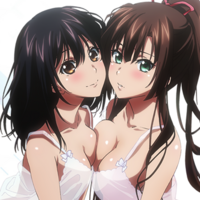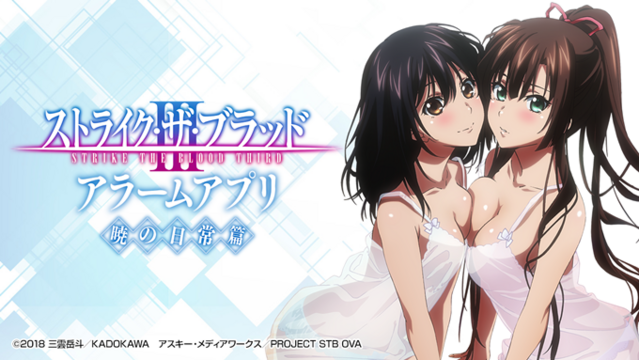 Tokyo-based company D-techno has posted a two-minute PV for the new alarm clock app from its "Chara
clock" brand, "Strike The Blood Alarm ~Everyday Life of The Dawn~," introducing sample voices of the
two heroines from the Strike The Blood anime series, Yukina Himeragi (CV: Risa Taneda) and Sayaka
Kirasaka (Ikumi Hayama), as well as various newly-drawn illustrations.
The app is co-developed by the Strike The Blood anime's production studio SILVER LINK. The two VAs
recorded more than 280 new words, and the anime company provided over 20 newly-drawn character
illustrations for it. It is scheduled to begin its service for iOS and Android early next month.
【ストブラアラーム PV公開】
雪菜と紗矢華、二人の魅力が詰まったアプリPVを公開しました!新規公開のイラストやボイスも使っております。是非御覧ください!
※審査によりイラスト内容など変更となる場合がございます。ご容赦ください…。https://t.co/YrmSsOy6mr#ストブラ #ストブラアラーム

— Chara clock ~キャラクロック~ 公式アカウント (@Characlock) 2019年5月24日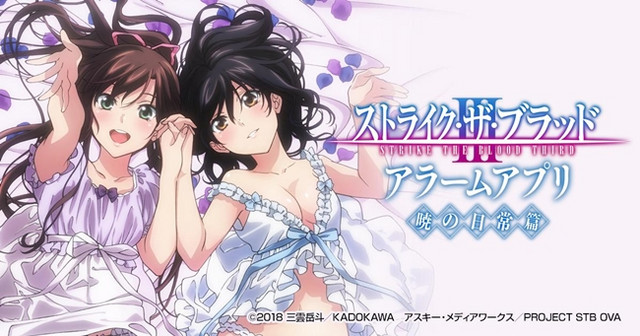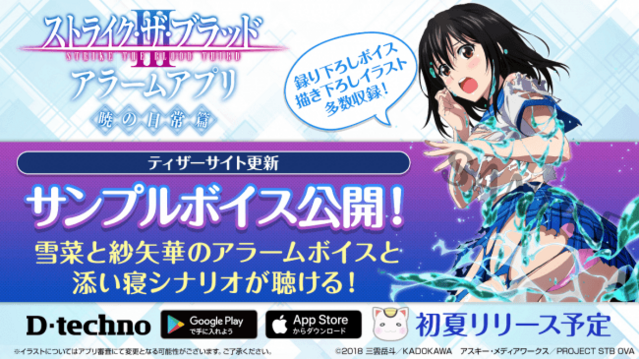 ---
Source: D-techno press release
©2018 Gakuto Mikumo/KADOKAWA Ascii Media Works/PROJECT STB OVA
©SILVER LINK.
©D-techno