The manga smash-hit is getting an anime, and you'll be able to watch it on Crunchyroll!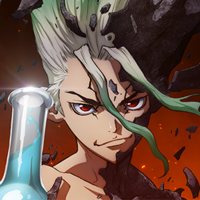 History will be remade...








...legends will be rewritten.
As part of our Summer 2019 lineup, we are proud to announce that Dr. STONE will be joining the Crunchyroll streaming library this July. Based on the hit weekly Shonen Jump manga title written by Riichiro Inagaki (Eyeshield 21) and illustrated by Boichi (Sun-Ken Rock), the series will follow the science-minded Senku and his friend Taiju after they awaken in a world thousands of years after human civilization grinded to a halt. Slowly, they discover that nearly all of humanity has been frozen in place as stone statues, and it is up to them to rescue the global population and rebuild society from the ground up.
Through science and the unconquerable human spirit, Senku seeks to light a fire within all of the survivors to push past their limits and rebuild the entire world. Every human has the potential to change the world in their own small way, and, together, united under the banner of scientific progress, humankind will re-write their own destiny.
The English language publisher of the manga, Viz Media, describes the series:
"
One fateful day, all of humanity was petrified by a blinding flash of light. After several millennia, high
schooler Taiju awakens and finds himself lost in a world of statues. However, he's not alone! His science-
loving friend Senku's been up and running for a few months and he's got a grand plan in mind—to kickstart
civilization with the power of science!
"
The series will be the directorial debut of Shinya Iino (directed single episodes of Barakamon; Plastic Memories), with writing from Yuichiro Kido (Blue Exorcist: Kyoto Saga; Fruits Basket (2019)), character design from Yuko Iwasa (Yowamushi Pedal; Saint Seiya: The Lost Canvas), and animation produced by TMS Entertainment (MEGALOBOX; LUPIN THE 3rd PART 5). Stay tuned for more information as the air date draws closer!
---
➡️ Dr. Stone Official Show Page
---

Cayla Coats is the Editor-in-Chief of Crunchyroll News. She tweets @ceicocat